Adding collagen to your diet
You're probably here because you've already bought into collagen. You know collagen is the most abundant protein in our bodies. Many (including us) refer to collagen as the "glue" that holds us together. But, for reasons we don't quite understand yet, our bodies decide to decrease the production of collagen starting around 25-30 years old and that downward slide continues as the years pass.
Total buzz kill on your 25th birthday.
Should you add more collagen to your diet? Absolutely!
The best way to get more collagen in your diet is to…eat more collagen!Dr. Cate, M.D.
You have 2 options to incorporate collagen into your diet:
Add collagen to your diet through foods that contain collagen (not common!)
Add collagen to your diet via a supplement (very common!)
You've probably already decided you should take a collagen supplement, and more specifically, a collagen powder supplement.
Collagen powder intro
Collagen powder. The popular kid in school.
It's one of the most common forms of collagen . You can easily purchase online or from your local grocery or supplement store and each scoop delivers around 7g of collagen protein.
But, how do you use collagen powder? How do you take it?
One of the main reasons why collagen powder is beloved is because of its versatility. There are numerous ways to consume it. Eat it, drink it, mix it, blend it — you have plenty of options (jump to these 17 ways below).
Collagen powder generally comes in a typical supplement container like other protein powders, or a small packet if it's a single serving.
"I'm a nutrition scientist and recommend it when I can. The high quality of the multiple types of collagen is superior to anything else on the market."
- Michelle (Tappahannock, VA)
Most brands (like us!) will offer an unflavored option — meaning, you don't have to worry about any odd smells, tastes, or textures when trying to consume this super-food in drinks and food. Be sure to drool over our 50+ collagen powder recipes for inspiration and practical tips. We'll share and link to some of these delicious recipes below.
How to mix collagen powder
Though collagen is a sticky protein (see What is Collagen?), collagen powder should dissolve fairly easily – just like any other protein powder.
You can mix collagen in a:
blender
shaker bottle
mug/cup + spoon
mug/cup +

frother

(hello collagen lattes!)
broth/soup/hot water
dough (breads, treats)
and more!
Why does my collagen powder clump?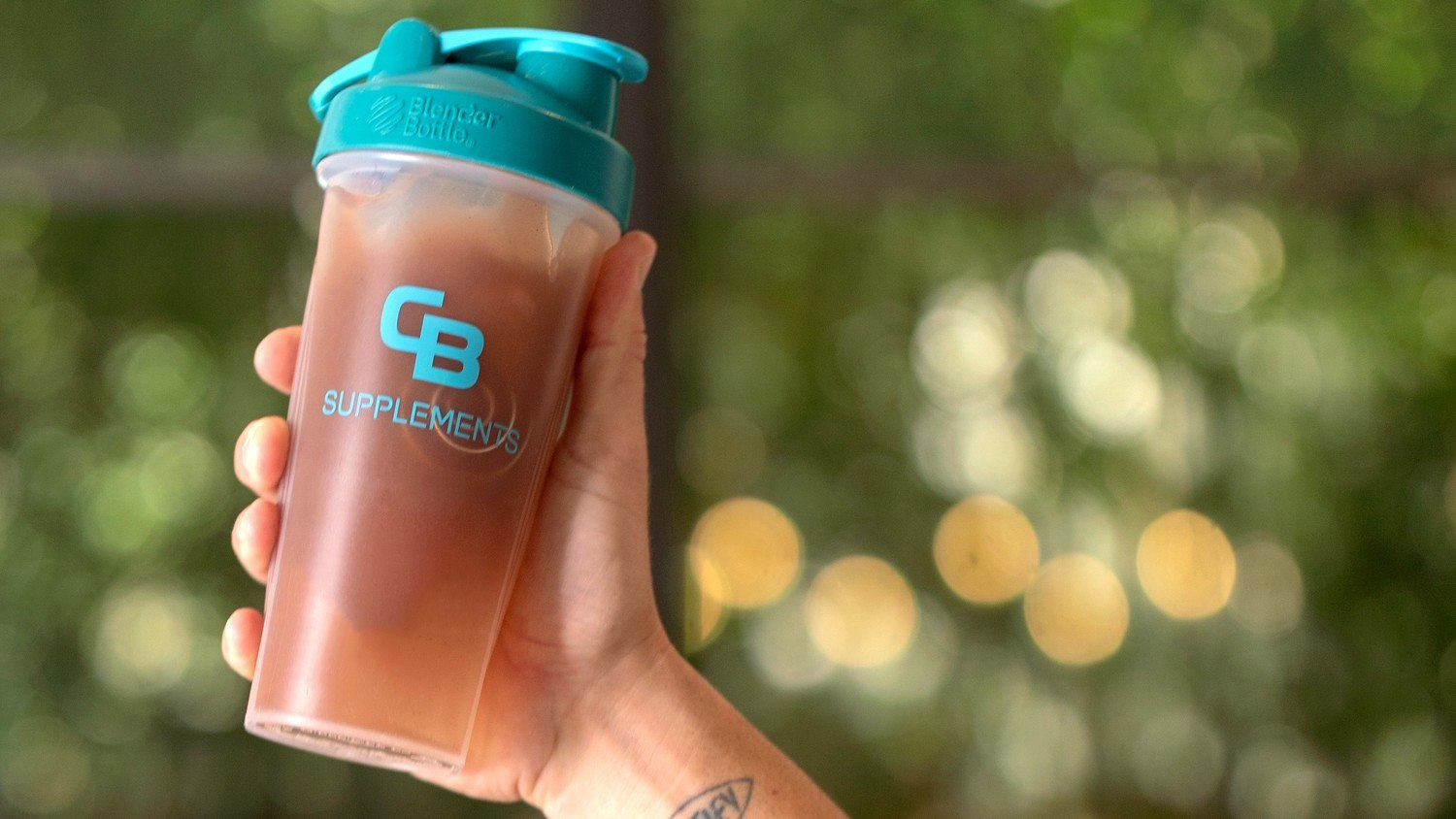 Let's talk about clumping.
After dropping in a scoop to your hot or cold liquid, you might notice some slight clumps form from the collagen supplement. Why? Why does collagen powder clump? Here's the deal.
Collagen is a "sticky" protein.
The word collagen comes from the Greek word kólla, which literally means glue. Collagen holds our bodies together — it's meant to be sticky! So before you curse out your collagen remember that collagen, in its natural not overly-processed state, is like glue.
But, we also get that chunky coffee, tea, or whatever beverage you choose to mix it in isn't ideal (and kind of gross!) Ain't nobody got time for that.
How to mix collagen powder without clumping in liquids
You really have 4 options for mixing collagen powder without clumping in cold or hot liquids:
Shaker Bottle (estimated time: depends on your shaking ability!)
Stir until gone (estimated time: 30-45 seconds, depending on the collagen brand)
Smush the clump to side of your beverage container, then stir (estimated time: 20-30 seconds)
Use a frother (estimated time: 5-10 seconds)
Let's make this easy. For you coffee, tea, and hot chocolate connoisseurs, buy a frother and mix your collagen like a dream. We're pretty sure you know how to use a frother, but just in case you've never seen this in action, this video is for you.
Using a frother to mix your collagen in your drink is as easy as 1, 2, 3!
Add the collagen to bottom of mug (we found it easier to mix)
Pour the hot drink over top of the collagen
Froth for 5-10 seconds
Sip, enjoy, and be proud of your frothed collagen mustache. Hooray for no clumps!
How to use Collagen Powder in 17 ways!
Here's how you use collagen powder effectively. Below are the various ways you can mix/drink/eat/shake/bake this amazing super-food.
1. Water
Add 1 scoop of collagen powder to a shaker bottle with 8-12 oz of cold water
Let's start with the simplest way to take collagen powder. Water.
Can you put collagen in water? Absolutely! Either drop in a scoop or tear and pour a collagen peptides individual packet to a shaker bottle filled with water, shake for 10-15 seconds, and voilà. Collagen + water on demand.
Does collagen powder dissolve in water?
Collagen can be notorious for clumping as we explored above. However, a good collagen brand will ensure your collagen dissolves in cold water without clumping. Hot water clumping is less of a thing since collagen dissolves pretty easily in a hot liquid such as coffee, latte, tea, or hot chocolate (mmm).
Pro Tip: Use flavored collagen powder when choosing water as your vehicle. It's simple and your taste buds will gloriously shout "THANK YOU!"
2. Coffee
Add 1 scoop of collagen to every cup of coffee
Can you put collagen in coffee?
Absolutely!
If you're using an unflavored collagen powder, you don't taste anything (but the delicious coffee). It's like cheating this is so easy. It dissolves after 10-15 seconds of stirring and doesn't impact those amazing java aromas, flavors, or textures of your brew. If you want to take your collagen coffee game to the next level, try adding in chocolate collagen (hello Caffè mocha!) or vanilla collagen.
3. Latte
Add 1 scoop of collagen to your latte (whatever flavor it is!)
Ah, delicious warm lattes. Did you know coffee and milk have been part of European cuisine since the 17th century?
Here's where an unflavored collagen powder can be put to the test. Drop in a scoop to any type of concocted latte such as Mocha, Vanilla, Caramel, Hazelnut, Cinnamon, Chai, Pumpkin Spice, Matcha — the list keeps going. A colorless and flavorless collagen powder won't disrupt the latte's rich and indulgent flavors, but you'll be feeding your body awesome collagen protein along the way! Win-win.
Fancy Tip: If you order a pretty latte from your beloved coffee shop, enjoy the etched latte art for a few sips before you pour and mix your collagen powder.
4. Tea
Add 1 scoop of collagen to every cup of tea
Seeing a trend here? Hot liquids are a great vehicle to dissolve collagen protein powder.
Tea is no different since global tea consumption is 3,000,000 tons a year. Woah, that's a ton of tea. Tea is a safe and reliable way for many people to take collagen powder in the morning, afternoon, or for a nightcap!
Collagen goes great with all kinds of teas:
Black tea
Green tea
White tea
Matcha tea
Herbal tea
Chai tea
5. Milk
Add 1 scoop of flavored collagen in cold milk (even non-dairy!)
Let's switch away from hot liquids and go cold. And this idea may be the simplest and most delicious of them all.
Can you mix collagen powder with milk? Absolutely! Collagen peptides can mix with any kind of milk including cow, almond, goat, oak, raw, coconut — if it's a liquid, it'll dissolve!
The best way to use collagen powder in milk
Simply pour 8-12 oz of cold milk into a shaker bottle, add a scoop of chocolate collagen powder (or vanilla), shake, and enjoy the healthiest chocolate or vanilla milk on the planet! You can either drink straight from the shaker (duh) or pour into your favorite fancy milk glass.
Is there collagen in Milk?
Since milk is an animal-based food, and many animal-based foods contain collagen (e.g. organ meats, bone broth), here's a point of clarity.
Yes, you can mix collagen peptides powder in milk, but milk itself does not contain collagen protein. This can become confusing since cows' skin/hide is a common source to collagen peptides — and sometimes the only source if a bovine collagen. Though milk from a cow is loaded with nutrients, it's void of collagen protein.
6. Hot Chocolate/Cocoa
Add 1-2 scoops of collagen to hot water and mix in a scoop of cocoa powder to make delicious (and healthy) hot chocolate!
Who says hot chocolate is just for the holidays? NOT US!
After you mix everything, add in milk or half & half and sip till you smile from ear-to-ear. Adding collagen powder to your hot chocolate is a win/win!
7. Bone Broth
Add 1 scoop of collagen powder to 8-12 oz of bone broth
Adding a scoop of collagen powder to your already nutrient-dense hot bone broth is like getting a manicure AND a pedicure in one sitting. Though similar, they're different, and together they're awesome!
Bone Broth is the OG of liquid collagen (compare liquid collagen vs powder), and contains a family of compounds known as glycosaminoglycans. These compounds help support collagen in the body.
Store-bought bone broths will typically be sourced from beef or chicken, which means they'll be void of all 5 types of collagen (e.g. chicken bone broth will contain types II & X). Dropping in a scoop of a multi collagen powder to your cup of bone broth will immediately fill that void — making it a super combo of amino acids + glycosaminoglycans.
Tell your joints they can thank us later.
8. Protein Shake
Add 1-2 scoops of collagen to your protein (any protein!) shake after your workout
Double down.
I'm telling you baby, you always double down…Vince Vaughn's character in Swingers
Can you mix collagen with protein powder? Absolutely!
Adding collagen powder to your whey protein shake after a hard workout might be the best gift you can give your body for recovery. That's right, add two different scoops of two different protein sources to your post-workout shake! Just throw in a scoop, and shake away.
Collagen mixes well with any other protein powder such as whey, casein, plant-based protein (e.g. soy, pea, hemp) — they absolutely can be taken together (it's the new PB&J).
Here are some simple combo ideas for adding collagen (both unflavored & flavored collagen) to your existing protein shake:
Unflavored Collagen + Whey Protein
Unflavored Collagen + Casein Protein
Unflavored Collagen + Flavored Plant Protein
Vanilla Collagen + Unflavored Plant Protein
You get the idea! If your other protein powder has a flavor (e.g. vanilla whey, chocolate casein), be sure to use an unflavored collagen powder so you're not mixing flavors. However, I don't think you be displeased by doubling up on a Chocolate Collagen + Chocolate Whey Protein. Mmm.
9. Baking
Add 1-3 scoops of collagen to any baking mix
Baking a great way to take collagen! (and did we mention, delicious??)
We'd recommend Simple Mills brand mix to make these collagen-infused baked goods:
small cakes (e.g. cupcakes)
big cakes (e.g. Birthday cakes)
muffins
breads
cookies
pancakes
brownies
waffles
Just add scoops of collagen to the base mixture of all these dishes.
This is also a great way to get your kids consuming collagen! Yes, collagen is safe for kids (and teenagers!) Ensure these treats are gluten-free (our multi collagen powders are gluten-free, so you're covered) and low in total carbohydrate content.
See ALL our Collagen Dessert Recipes
10. Orange Juice
Dilute 1 scoop of collagen in hot water, add OJ, chill it with ice!
Can I mix collagen powder with orange juice? Of course!
But don't stop with OJ, most fruit juices work here. Adding collagen powder to your little one's juice is a super practical way to help your kids get stronger, healthier, and experience all the benefits of collagen + vitamin C.
One important note about OJ (or any juice with vitamin C). Though vitamin C helps with the manufacturing of collagen, you do not need a collagen supplement with added vitamin C.
Adding minerals like calcium, magnesium, or even vitamin C may trigger harmful oxidation of certain amino acids in the collagen supplement during storage that would reduce the supplement's efficacy.Dr. Cate, M.D.
Don't mistake this with taking collagen with vitamins, such as a multi vitamin. It is safe to take together because collagen is food!
11. Kombucha
Kombucha comes loaded with health benefits! It's a potential source for natural probiotics and antioxidants.
Want a powerhouse drink? Take a glass of kombucha and drop a scoop of unflavored collagen into it. BAM, instant #powercouple.
Collagen and probiotics can be taken together, so there's no concern that the probiotics impact collagen's efficacy.
12. Smoothie
Add 1-2 scoops of collagen to any smoothie
The easy and obvious way to take collagen peptides powder, but it's still very effective! Use it as an alternative to your regular protein powder (e.g. whey)
CB Supplements' all in one multi collagen is unflavored and mixes well with any combination of fruits, vegetables, and any other ingredients you may throw into your daily smoothie. Side note, this is another great way to get your kids eating collagen!
Collagen powder will add a creamy texture to any smoothie, so use that to your advantage when planning ingredients.
See ALL our Collagen Smoothie & Shake recipes
13. Eggs
Add 1 scoop to your morning eggs or omelette
Wait, don't eggs already contain collagen? Sort of. The eggshell membrane contains the actual collagen, so that beautiful morning omelette won't boost any collagen.
But a scoop of collagen powder can change that!
Don't be afraid to throw in a scoop while they're still runny and being cooked in the pan. Collagen powder mixes nicely and you boost this already amazingly nutrient-dense food with even more nutrients.
Simple. Easy. Effective.
For something more refined, try this Collagen Quiche Recipe.
14. Oatmeal
Add 1 scoop to your breakfast oatmeal
Let's continue this breakfast theme.
If you take your oatmeal hot and creamy, this is a snap. Throw in a scoop of collagen powder while preparing and warming all your ingredients.
Bonus tip: Use our chocolate multi collagen to boost the deliciousness of your oatmeal!
15. Yogurt
Add 1 scoop to a bowl/cup of yogurt
Adding collagen powder to your yogurt requires a single utensil – a spoon. Add a scoop, stir for 30 seconds, and BOOM – collagen-infused yogurt for your morning or afternoon snack!
We've talked a lot using our unflavored multi collagen powder here, but yogurt (we recommend Stonyfield's Plain Whole Milk Organic Greek Yogurt) + one of our flavored powders is an excellent combo to spruce up your plain yogurt.
16. Pasta or Rice Liquid
Add 1-2 scoops (or like 5!) of collagen to the liquid you cook pasta or rice
Cook rice and pasta dishes in bone broth (we recommend Kettle & Fire) and add in a few scoops of collagen to the liquid.
This transforms bland and somewhat un-nutritional foods (like rice and pasta) into a powerhouse of nutrition, full of essential amino acids and collagen protein.
Pro Tip for Parents: Never make Mac & Cheese again without throwing 2-3 scoops of unflavored collagen powder in the water first. This is an easy win folks!
17. Soup
Add 1-2 scoops into every bowl you serve (or throw a bunch of scoops into the pot as you make the soup!)
Remember, hot liquids gobble up collagen powder easily and quickly. The individuals eating the soup will thank you.
See all our collagen soup recipes.
Best way to take Collagen Powder
What's the best way to take collagen peptides powder? As you've discovered above, you have a plethora of ways (17 and counting) within two main mechanisms:
drink collagen powder
eat collagen powder
You choose the vehicle for the powder and then take anytime during the day since there's no best time to take collagen!
Key Note:
Once collagen gets
inside
your body, it'll be handled the same way regardless whether you've sipped on your coffee and collagen or
crushed
nibbled a collagen-infused cookie. This is simply about personal preference.
Best Way to Drink Collagen Powder
I'm sold on consuming collagen via liquids, so what's the best way to drink collagen powder?
So you're a liquids kind of guy/gal – fair enough.
We've mentioned a handful of ways of drinking collagen above. If these options resonated most with you, then drinking your collagen might be the best option for you. Certainly put your collagen powder in these liquids:
Smoothies & Shakes
Coffee/Tea/Latte
Milk
Hot Chocolate/Cocoa
Bone Broth
Post-workout Shake
Soups
Orange Juice (and Juice, really!)
Kombucha
Best Way to Eat Collagen Powder
Oh yeah. It's the best part. It's crunchy, it's explosive, it's where the muffin breaks free of the pan and sort of does its own thing. That's a million dollar idea right there. Just sell the tops.Elaine, in "The Muffin Tops" Seinfeld episode
Maybe muffins are your thing, and that's OK.
If you're not into drinking your collagen powder, try these alternative ways to EAT your 2-3 scoops a day:
Baked goods (cookies, brownies, cakes, pancakes, etc.)
Eggs
Oatmeal
Yogurt
Pasta/Rice (Add to cooking water)
Diversify how you take collagen powder
Rather than debating which option is best, you should instead focus on diversity.
If you're taking 2-4 scoops daily (we recommend 1 scoop of collagen powder per 50 lbs. every day), then you'll probably need a few different ways to ensure you're hitting your awesome collagen powder quota. Diversity will help you be consistent with your collagen consumption.
If you enjoy taking your collagen powder, you'll probably continue to take it!Captain Obvious
Also, remember that you can cook with collagen without losing its nutritional value (don't believe the craziness that collagen can't be heated, that opinion goes against the laws of chemistry and physics!) So, you're limited here by your culinary skills.
Can I add flavor to collagen powder?
You can take 3 approaches to add flavor:
Buy a flavored collagen powder. Flavored collagen powder is delicious just with water, but can also be used in variety of hot & cold drinks.
Use an unflavored and add to real food/liquids. Note: You're not really adding flavor to the collagen power, rather you're adding tasteless collagen protein to foods with existing flavors. You know what we're sayin'?
Use a quality non-artificial sweetener. We're big fans of Stevia and monk fruit. We've found cacao a great sweetener too (hello healthy hot chocolate!)
I'm NOT sold on collagen powder – what other forms of collagen can I take?
If you haven't realized yet, we think powder is the king of collagen supplements. However, the best way to take collagen depends a lot on preference — you can take via capsules, bars, drinks, and more. If you hate powders, maybe compare collagen powder and pills first.
Just remember, you'll still need to ingest the collagen no matter what "delivery method" you choose!
Collagen powder: Easy to take + big benefits
This is a winning formula.
The question here isn't how do I take collagen powder? It's, how do you not take collagen powder? It's too easy.
As we've detailed here, collagen powder can go in pretty much everything (except soda, never ever in soda) and the benefits of collagen protein powder are undeniable. We'd even love to see a microbrewery seriously attempt a Collagen Beer (though some have tried) – now THAT would be pretty awesome (and tasty).
Play around with collagen powder and experiment — collagen is versatile.  Your health will thank you for it!