Most supplement companies want to do it all. We're not the typical supplement company.
We focus solely on multi collagen. From the best sourced ingredients to radical customer appreciation, you won't find a cleaner and more effective multi collagen protein supplement.
Our 2 lines of Multi Collagen Products
WHICH MULTI COLLAGEN IS BEST FOR YOU?
| | Every Day | NSF Certified for Sport® |
| --- | --- | --- |
| Made For | Kids, Teens, Adults, Athletes, Seniors, Pets — Everyone! | Any athlete requiring NSF Certification (or anyone wanting to consume the cleanest multi collagen in the world!) |
| NSF Certified for Sport® | | ✓ First & Only Multi Collagen |
| Purity Tested | Protein contents and amino acid profile third-party verified | Protein contents and amino acid profile third-party verified |
| Premium Ingredients (see below) | ✓ | ✓ |
| Non-GMO, GMP Certified, Manufactured in U.S. | ✓ | ✓ |
| Sources (Beef & Chicken) | Grass-Fed Pasture Raised Beef, Cage Free Chickens, Egg Shell Membrane | Grass-Fed Pasture Raised Beef, Cage Free Chickens, Egg Shell Membrane |
| Sources (Marine) | Wild Caught Red Snapper & Pollock | Wild Caught Tilapia |
| Types of Collagen | I, II, III, V, X | I, II, III, V, X |
| Flavors | Unflavored, Chocolate, Vanilla, Strawberry Lemonade, Seasonal, Pet | Unflavored, Chocolate, Vanilla |
| Sweetener Used | Stevia | Stevia & Monk Fruit |
| Price per 20 oz Container | $42.97 | $54.97 |
Every Day Multi Collagen Single Serve
1 scoop of multi collagen per packet
Traveling? At the gym? On the go? Our premium grade flavored multi collagen protein powder complex comes in convenient single serve packets. Just tear, pour, and stir or shake!
Grab 7 of each flavor for a total of 21 delicious packs! You know what they say about variety.
Use our Single Serve Selector to create your dream combo of 21 different packs. Who doesn't love options?
Every Day Multi Collagen Bundles
Container Bundles (58 servings each)
Save nearly $62 with the multi collagen powder bundle to rule them all! This 5 container bundle includes: 1 unflavored + 3 flavors (Chocolate, Vanilla, Strawberry Lemonade) + 1 pet collagen. If you want it all, save big money with this bundle!
Ensure to get your recommended 2-4 scoops of collagen a day by giving yourself options. Having unflavored + 3 flavors around is a great way to keep your collagen intake both fun & delicious! And you save nearly $47.
Use our easy bundle builder to meet your unique collagen taste buds. Simply choose a configuration of any 3 containers (Unflavored & Flavors) and save $19!
Single Serve & Shaker Bottle BUNDLES
More Awesome Collagen Stuff
Who doesn't love a little throwback to John Belushi and the late 70s cult classic, National Lampoon's Animal House?
Of course, we decided to put our own twist on the "College" tee and find a way to make it about collagen. Can you blame us?
Incredibly comfortable tri-blend, vintage look, unisex fit.
Our BlenderBottle® is perfect for taking your multi collagen powder on-the-go or simply mixing quickly. Add 1, 2, or even 3 scoops of our premium grade multi collagen to this 24 oz shaker, add a liquid, and voilà! Works well with our NEW flavors and water! Toss your other lame shakers, this will rule them all. Happy shaking!
For a limited time only, we're offering a special edition "White" version of our CB Supplements BlenderBottle® shaker. Get one while they last!
SEEN ON
FOX 35 Good Day Orlando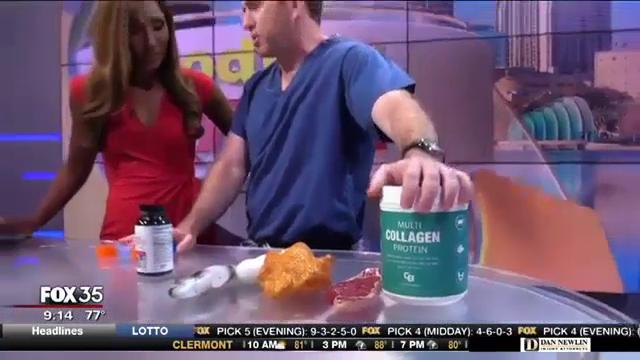 THE BEST MULTI COLLAGEN SUPPLEMENTS
Health Benefits of Multi Collagen Protein
Want to look & feel better? Seeking faster recovery? Needing to improve your diet?
Ways to take Multi Collagen
We recommend 1 scoop per 50 lb. of body weight
Hot Drinks
Throw a scoop in your coffee, tea, or hot beverage
Smoothies & Shakes
Mix into a smoothie or add to any protein shake
Baking or Cooking
Use as an ingredient when baking or cooking rice and pasta.
Dilute for Fruit Drinks
Dilute in hot water, add ice & fruit juice (OJ works great) for the kids
"There is reason to believe a multi collagen offers benefits over a non-multi collagen (single source) because the benefits of collagen appear to come from a handful of 2 and 3 amino acid sequence combinations, each of which may confer unique benefits and may be present in different amounts in different types of collagen."
Dr. Cate, M.D.
New York Times Bestselling Author of Fatburn Fix, Deep Nutrition, & Food Rules
5 different Types of Collagen per scoop!
Most collagen supplements only provide one or two types of collagen in their products. CB Supplements multi collagen supplements contain 5 types of collagen! (I, II, III, V, & X). Ensuring your collagen has all 5 types of collagen enables you to feel the full benefits of collagen with every scoop!
Type I: The most common type of collagen. Makes up 90% of our hair, skin, nails, organs, bones, and ligaments.
Type II: Helps build cartilage and maintain our gut lining. Supports digestive health and promotes immune function.
Type III: Supports skin and bone health. Part of arterial walls and important for cardiovascular health.
Type V: Found in our skin in the dermal/epidermal junction. Required to create the walls of the placenta.
Type X: Found in bones and cartilage. Often called the 'network-forming' collagen in our bones.