If you couldn't tell, we love collagen powder.
When it comes to versatility with liquid and foods for consumption, powder is unmatched. Drop in a scoop to your coffee, smoothie, protein shake, pancakes, muffins — boom, 7g of hydrolyzed collagen protein. There are at least 16 ways to eat or drink collagen powder and it can even be a little fun — try out a frother, woo!
But, there are other forms of collagen supplements available. In particular, collagen pills. Are they the same as powder? What's different? Do they contain the same amount of collagen? Why would I take pills over powder? And vice versa.
We'll answer all those collagen pills vs collagen powder questions and much more!
Powders & Pills: the 2 most popular collagen supplements
There are multiple forms of collagen supplements on the market. Aside from powders and pills, there are also drinks, bars, shots, and gummies. More on the best way to take collagen where we explore these 6 different forms. If you're interested in comparing powder to another popular form, don't miss our liquid collagen vs powder comparison guide.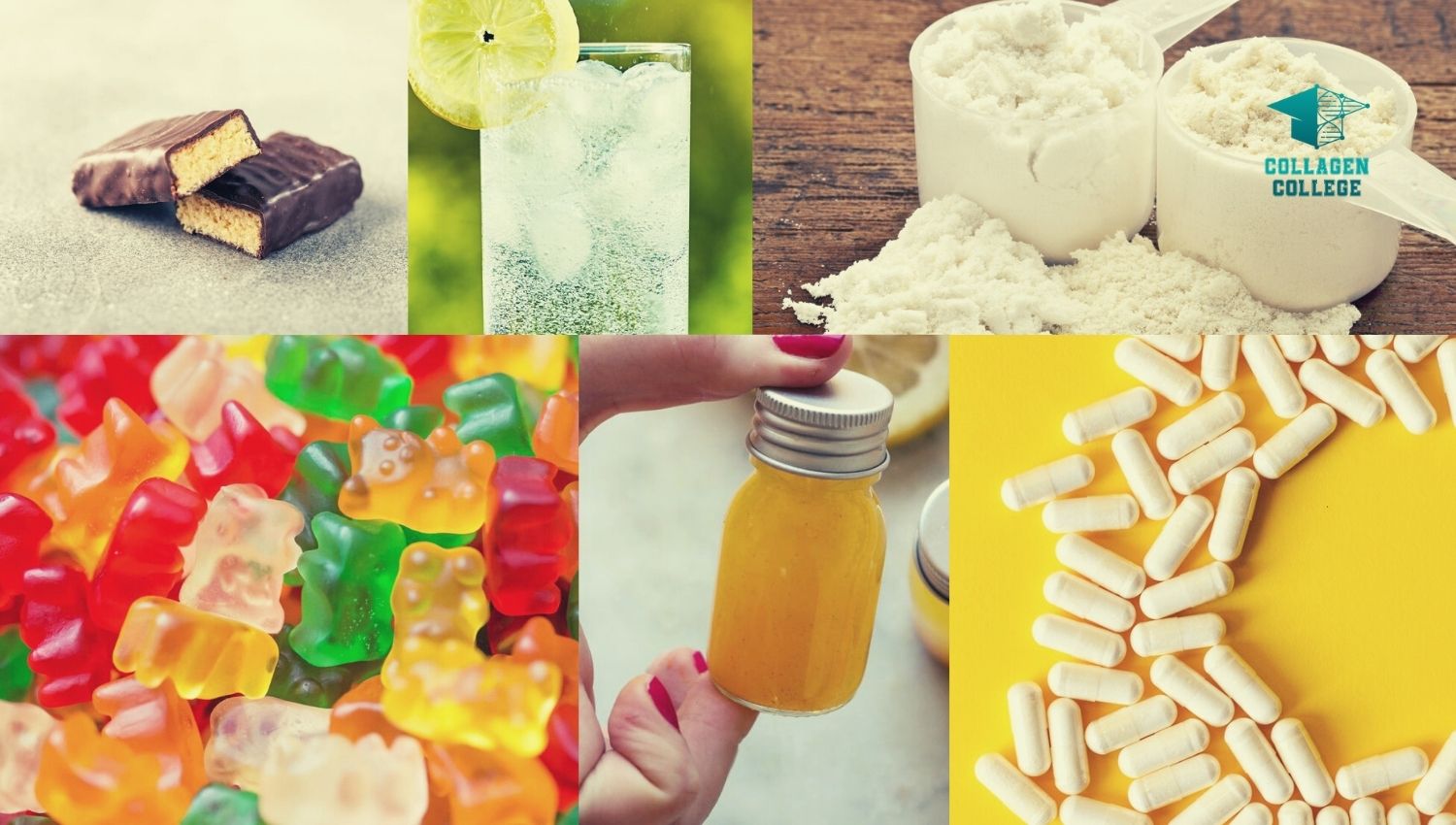 But, back to powders and pills. Why are collagen powders and pills so popular? Plainly put, they're the easiest form of collagen supplements to get into your diet.
Here's why people love collagen powders and pills so much:
Travel well
Don't need refrigeration
Easily storable
Cost-effective
Simple ingredients (other forms, such as  gummies and drinks, typically add extra ingredients such as sugar, concentrates, juice, and more)
People are used to taking powders and pills
KEY POINT
Collagen pills and powders offer a convenience that most people are already well acclimated to.
Pills vs. Capsules vs. Tablets nomenclature
Before we get into the head-to-head matchup (cue Monday Night Football jingle), let's get some nomenclature out of the way to ensure there's no confusion.
Collagen pills are used as an overarching term and include both capsules and tablets. Collagen will typically come via a semi-transparent soft-gel capsule because capsules act quicker than tablets with higher bioavailability. So, when you see collagen pills, you'll actually be buying collagen capsules. Collagen tablets are rare, maybe even non-existent. I have yet to see a collagen tablet available for purchase. If they were available, we'd imagine the tablets to simply be compressed powder.
Quick review
Pills – Used to describe both capsules & tablets.
Capsules – Semi-transparent, soft-gel. Most collagen supplements will come in capsule form.
Tablets – Hard, solid, smooth-coated. Not popular in collagen supplements.
Now that we know pills is an all-encompassing term, let's start with breaking apart (pun absolutely intended) the insides of a collagen capsule. Can you guess what's inside?
What's inside collagen pills?
If we've offended your intelligence by dedicating a whole section to this, we do apologize. However, we get this question often and it warrants spending a hot minute on it.
This is as straightforward as it gets, folks.
Collagen pills are just collagen powder wrapped up in a nice capsule. Oh, and guess what that soft-gel capsule is made of? You got it, collagen!
DID YOU KNOW?
Similarities between collagen powder & pills
Now that we know collagen capsules are simply collagen powder in a thin collagen tubing, let's compare the key similarities between collagen powder and collagen pills.
3 similarities
Effectiveness. Both capsules and powders will be effective. One isn't superior to the other. As mentioned above, pills are simply collagen powder wrapped in gelatin.
Absorption. Speaking of that gelatin, capsules have a nominal

absorption

 impact once ingested. "As long as your gut is healthy, capsules break down in a few minutes, there's not much of a difference", says Dr. Cate, M.D.
No taste. Both pills and powders (if using an unflavored collagen powder) will be flavorless.
Pills Absorption caveat
The one small caveat to this, per Dr. Cate's comment on absorption above, is the impact collagen pills could have during digestion if your gut is unhealthy. When reading the labels of collagen pills, just make sure they're using collagen peptides as the ingredient, not gelatin.
Capsules may contain granules that your digestive system does not break down.
— Dr. Cate, M.D.
With that said, collagen pills are just as effective as collagen powders. They absorb nearly the same and have zero impact on your taste buds. However, this is where their similarities end. Let's now compare the differences.
Differences between collagen powder & pills
The major differences between collagen pills and powders are mainly about how much collagen protein is in each serving, the impact on your wallet, and the differences in how you consume.
3 differences
Collagen protein per serving. This is the biggest difference between powder and pills. 7g of collagen protein can be achieved through 1 scoop of collagen powder or 12 collagen pills. To get your RDA of collagen (10-40g), that's A LOT of pills.
Price per serving. The difference in serving size can hurt your wallet, too. Let's say you want 10g of collagen daily and have a budget of $40. A bottle of 360 capsules will last you aprx. 20 days (18 pills daily). A container of collagen powder will last you aprx. 38 days (1.5 scoops daily). That's twice as long!
Consumption experience. Know of anyone that loves to swallow pills? Me neither. 1 in 3 people will vomit, choke, or gag when swallowing pills, per WebMD. This uncomfortable trend continues, as JAMA reports that 40% of adults in the US struggle to swallow pills. Pills certainly come with consumption hurdles. Powder, on the other hand, will offer you plenty of ways to ingest collagen with ease.
Comparison Table
Collagen Powder

Collagen Pills

What's in a bottle

58 scoops

360 capsules

Serving Size

1 scoop

6 pills

Collagen Protein per serving

7g

3g

Price per 7g of collagen

~$0.75 per 1 scoop

~$1.25 per 12 pills

How long a container/bottle lasts (see RDA for collagen

38 days (10g/daily)

20 days (10g/daily)

Absorption

Same

Consumption

Add to liquids or food, then drink/eat

Swallow pills with liquid

Preparation

Stirring, Shaking, Blending, Cooking

None needed

Portability

Requires placing powder in plastic bag/container or buying single serve travel packs

Small, easily portable in a variety of containers
Reasons to choose collagen powder
1 in 3 people will vomit, choke, or gag when swallowing pills.
— WebMD
That statistic may be enough to choose powder rather than pills as your collagen supplement. If you're still on the fence, here are more reasons:
Reasons to choose collagen pills
Over 50% of Americans take at least 2 pills a day (i.e. over-the-counter drugs, vitamins, and dietary supplements). If you're part of that half, collagen pills/capsules might be the best method to get your daily collagen protein since you're already in the habit.
Here are more reasons to choose pills rather than powder as your collagen supplement:
Conclusion: Is powder better than pills?
Hopefully, we've uncomplicated your collagen powder vs pill dilemma. But, let's end with this to ensure we're clear on our position in all of this.
Which is better? Collagen pills or powder?
This is about personal preference, not overall effectiveness. The debate isn't won through which form has more validity, more absorption, and more overall benefits to your body. It's won by your budget, lifestyle, and how you want to consume the collagen supplement orally.
With that said, do we think collagen powder is better for most people? Yes. We've planted our flag by offering collagen powder for several reasons — many listed above.
But honestly, we just want you to take collagen — however you can — to feel all its wonderful benefits. It's our mission to tell everybody about it. Whichever way you decide to take a collagen supplement, whether powders or pills, is just fine with us. Ultimately, we hope this comparison guide has provided all you need to decide on what form is best for you!