This collagen recipe is brought to you by Becca Davis! Follow her on Instagram (@teachertastes) for more tasty recipes or check out her blog: Teacher Tastes!
From Becca:
I made these for a party and they didn't last long!
Spice up your life with some collagen pumpkin bars
This recipe is so simple and has all the Fall feels!
When Fall comes around, I want all the pumpkin flavored things. These collagen-infused pumpkin bars are a perfect and easy way to get your pumpkin fix in this season while also getting the awesome benefits of collagen protein in every bite!
The world's ONLY Pumpkin Multi Collagen Powder!
If you're not much of a pumpkin bar person (we won't judge, well, maybe), be sure to check out other creative ways to enjoy pumpkin collagen! Or, browse more dessert recipes using collagen powder.
Prep Time
10 Minutes
Cook Time
45 Minutes
Total Time
55 Minutes
Servings
This recipe makes 8 servings.
Ingredients
Collagen Pumpkin Bars
Cream Cheese Frosting
1 package 6oz Cream Cheese
2 tbsp Butter
1 cup Powdered Sugar
1 tbsp Almond Milk
1/2 tsp Vanilla Extract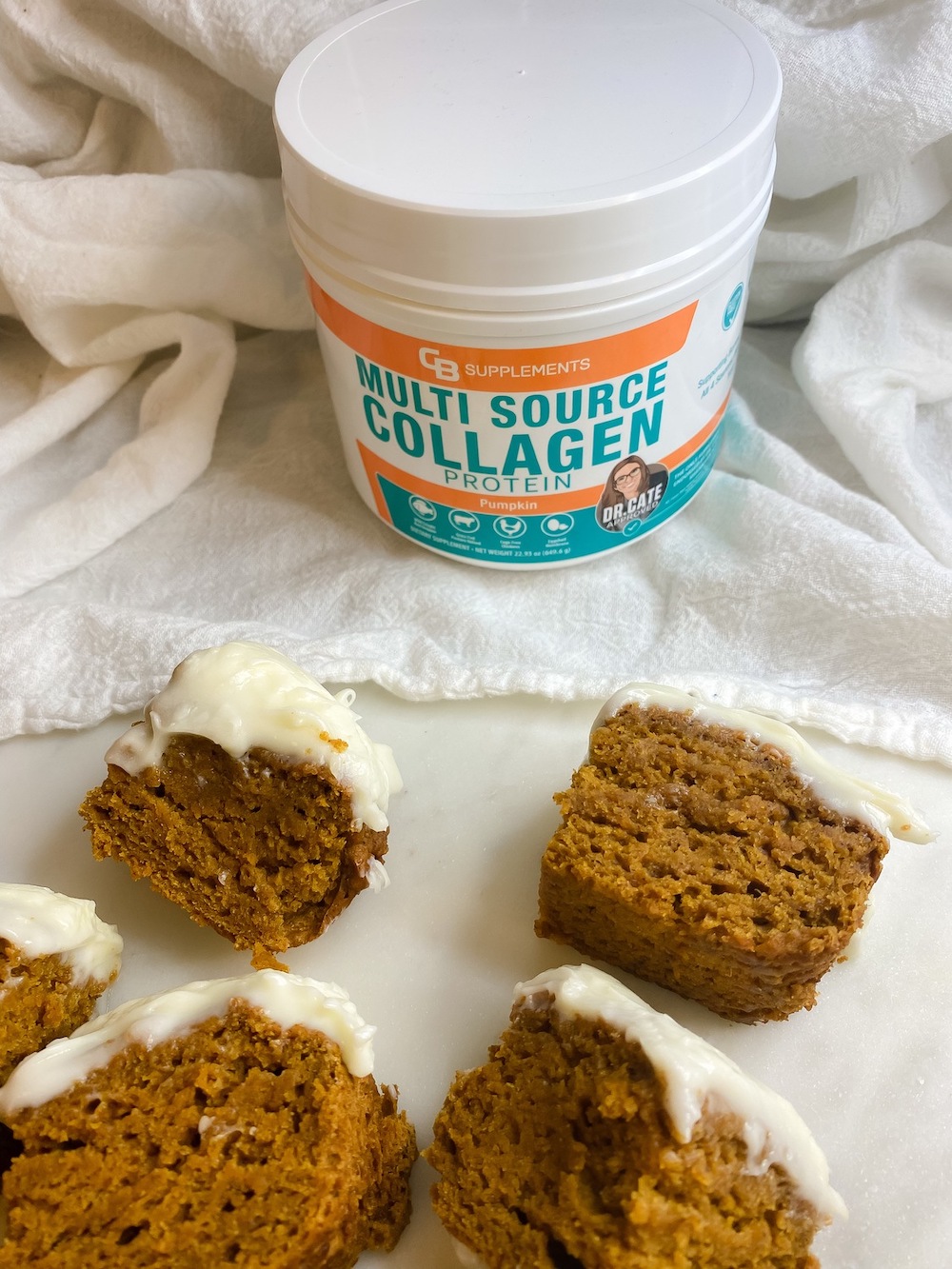 Instructions
Preheat oven to 350º.
Mix together the pumpkin puree, pumpkin bread mix, and water in a large bowl and mix until combined.
Please in a parchment paper lined 8×8 pan.
Bake for 45 minutes until center is cooked through.
While that is cooking, combine ingredients for cream cheese frosting and use a hand mixer to combine until frosting-like consistency.
Take bars out and let cool before topping with frosting.
Enjoy!
Recipe Tips
Use a toothpick to check the center of the bars to check if they are fully cooked. They are fully cooked when there is no batter on the toothpick!
Nutritional Value
Calories: 145
Protein: 6g
Fat: 3g
Carbs: 12g
Fiber: 2g
Sugar: 5g