Chocolate Multi Collagen Protein Powder
Premium Grade, Doctor Approved
$42.97 — or subscribe and save up to 15%
Buy 3 containers, get an additional 15% off initial purchase!
DISCOUNTS & PROMO CODES HANDLED AT CHECKOUT
15% OFF
You'll automatically save 15% on every single shipment!
NEVER RUN OUT

Put your collagen on autopilot! We recommend 1 scoop per 50 lb. of body weight daily. Please see helpful recommended serving chart below.
Our chocolate multi collagen protein powder sacrifices nothing, and our customer service is everything.
Our premium grade Chocolate Multi Collagen Protein Powder is both incredibly delicious and amazing for your body. Made from the best collagen ingredients (just like our unflavored multi collagen powder), Natural Flavors, Cocoa (processed from Alkali), and Stevia.
If you want to keep it simple, throw a scoop into a blender bottle with just water, shake, and enjoy. If you're a chocolate fan in general and want to experiment, we'd recommend mixing with milk (hello healthy chocolate milk!), greek plain yogurt, coffee, smoothies, and much more!
Our chocolate flavor is a fantastic option to add to your multi collagen lineup, helping keep your collagen intake both fun and tasty.
Free of Sugar, Artificial Sweetener, & Carbs. Loaded with YUM.
Hydrolyzed Bovine Collagen
Albumen Protein (from Powdered Egg Whites)
Hydrolyzed Chicken Bone Broth Collagen Peptides
Hydrolyzed Marine Collagen Peptides
Natural Flavors
Cocoa (processed from Alkali)
Silicon Dioxide
Stevia
Since we use bone broth as an ingredient (Chicken), our chocolate multi collagen complex also includes the "magic stuff" of glycosaminoglycans, proteoglycans, and glucosamine.
Never leave your Chocolate Multi Collagen behind.
MMM, CHOCOLATE
Great for traveling, in the gym, or at work. Just tear, pour, shake, and enjoy!
MMM, CHOCOLATE
Great for traveling, in the gym, or at work. Just tear, pour, shake, and enjoy!
9 Single Serve + Shaker Bundle
Health Benefits of Multi Collagen Protein Powder
Want to look & feel better? Seeking faster recovery? Needing to improve your diet?
SEEN ON
FOX 35 Good Day Orlando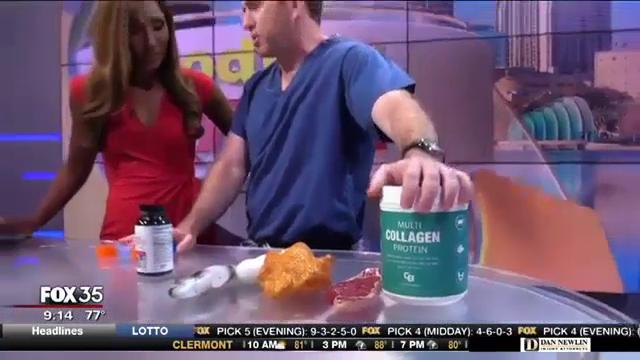 Free of Artificial Sweeteners
Manufactured in GMP Facility
Manufactured in United States
Our ingredients rock, but so does our customer service!
MORE THAN JUST
Beef or Chicken
CB Supplements multi-collagen contains collagen from 4 animal sources:
cows (grass-fed, pasture raised)
chickens (cage free)
fish (wild caught fish)
eggs (egg shell membrane)
Most collagen products are from one source (either chicken or beef) and only deliver 2 or 3 types of collagen at most.
There's debate around how many collagen types actually exist. Some say 16, others say 28, maybe there's 183?
Regardless of how many types are out there, collagen is awesome, important, and we need it. The key here is to understand that most collagen products contain only 3 types: I, II, & III.
CB Supplements multi-collagen contains 5 types of collagen: I, II, III, V, & X.
Ensuring your collagen has 5 types of collagen enables you to feel the full benefits of collagen with every scoop!
COLLAGEN 101
28 Types of Collagen?
CUSTOMER LOVE
Reviews of our Chocolate Multi Collagen Protein Powder
Mmmm
I like the chocolate flavor collagen probably the best. It's not an overly strong flavor that blends well with coffee, milk, or tea. Others probably, too. I have gotten my daughter convinced when she tried it.
The best Collagen supplement
CB Collagen protein supplement is hands down the best by far. It includes the four types of collagen with great flavors. Mix's easy with food and drinks.
Multi Collagen Protein Powder - Chocolate - Every Day
Great product!
Besides providing all the collagen supplement I would desire, the product has a delicious taste. Easy on the digestive system too. The sample packets of other flavors that came with my canister where delicious as well, and I may be ordering another flavor next time, just for diversity. It's all yummy! The personal touch and great communication from cbsupplements is exceptional.
Highly recommend!
I am a physical therapist and recommend my clients take collagen for recovery and to assist in healing following injury. I take this product myself and have noticed my recovery from playing soccer 3 days/week has improved since taking collagen daily. I have personally noticed less achiness and soreness into my knees following soccer games. Overall highly recommend!
Chocolate is delicious!
The chocolate tastes like a treat, so it's easy to do something healthy for our bodies!
The greatest secret weapon ever! That's great Yvonne. Thank you for your support
More Chocolate, Please!
I anticipated liking this chocolate flavor, but instead tolerate it as the taste is too sweet for my enjoyment. I like the flavor of cocoa, but this collagen flavor does not have the rich chocolate flavor that I enjoy in a drink, hot or cold.
The Collagen product provides wonderful support for my hair, nails, teeth, joints, skin...I couldn't be happier with the results. I started using the unflavored collagen product two years ago. Presently, I use the Pumpkin flavored, unflavored, and the chocolate. My teenage grandchildren enjoy the vanilla flavored collagen. Two years ago I was told I had rheumatoid arthritis in my right wrist. Medication was recommended, but instead I started using the collagen which my sister sent to me. Because of the positive results, I've continued to play golf, garden, walk, and do numerous other things. My nails are healthy, my teeth, joints and bones are strong.
This is outstanding Susan! It's so wonderful that you are experiencing such great results from the collagen! Welcome to our collagen family
Multi collagen Protein Powder
Started to see improvements in my skin within a week. Love this product!
Outstanding Britt! Thank you so much for supporting us
Collagen results
First off, the chocolate is very palatable. As for effects , it took close to 2 canisters for me to notice results. My joints are feeling stronger , and I noticed an improvement in digestion . I Highly recommend cb collagen
Thank you so much Marc!!! You are awesome and we truly appreciate you being so supportive. It's great to hear about the amazing results that you have experienced from taking our product. Thank you again for helping spread the collagen love to your family and friends!!
Great tasting
We purchase both vanilla and chocolate collagen powder. The powder mixes great with the beverage of your choice. I mix it in my tea in the morning and with milk in the afternoon. It tastes wonderful in both. We will not buy any other collagen product.
You are awesome Alice!!! The vanilla and chocolate are so versatile that you will never get bored with getting in your daily dose of your multi-source collagen! So happy to hear that you and your family are enjoying it so much. Welcome to our collagen family :-)