Quiche so good it will have you saying…
Wow! this is better than a doughnut!
My love affair with quiche started at the Winter Park, FL Farmers Market.
The anchor for the market is an old train station with rustic brick walls, swoony high ceilings with industrial crossbeams, and romantic bulbed lights. It's been a hugely popular venue for many a Winter Park party and wedding for decades. But, on Saturday mornings it magically transforms into a charming market where local vendors set up shop to pedal their hand-crafted goods.
It was upon one such Saturday morning that I discovered a 'quiche vendor' next to the coffee station, catty corner to the bagels, and directly across from the sugary treats. There must have been 100 quiche at stacked high in order of size and ingredients at their booth.
Learn more: Do Eggs Contain Collagen? (hint: yes, but not in the way you're probably thinking!)
 And that's when I saw it, CRUSTLESS QUICHE.
I had just started my health journey and so I was already grateful for the 'carb respite' an egg-based-dish would offer, but my gratitude was amplified upon discovering the unexpected bonus of a zero-carb-crustless option. They only had one left, and it was a 'quiche lorraine'. I had not heard of it before and inquired as to its contents. The young woman behind the 8ft. banquet table explained that a 'Quiche Lorraine' was simply a traditional quiche with egg, ham, cheese heavy cream, and salt.
As I took my first bite, my eyes legit rolled to the back of my head. I couldn't make sense of the silky-salty dream thing I had just eaten. All quiche before this quiche had been somewhat fluffy, rubbery, or bland in flavor. I took another bite, and again, my eyes rolled like cherries on the dial of a slot machine.
I found myself whispering to myself words I had not before uttered: "Sweet baby Jesus, this is better than a doughnut." (By the way, I do have a Collagen Donuts recipe if donuts are your thang.)
That's when I knew I had to learn how to make it.
Over the next 3 years (yep, 3 years) I must have tried to make it a few dozen times, with heavy cream, light cream, regular milk, coconut milk, almond milk, a variety of cheeses, and each time it came out too fluffy, dry, or just plain blah.
Well, when I asked the guys at CB Supplements what their kiddos love to eat (see collagen protein kid recipes), they said, EGGS! (as a non-Mom, I was shocked!).
But I thought, hmmmmm what's a dish where eggs can be the star, the addition of collagen will make sense, can be made ahead of time for moms and dads on the go, and used for other things like a holiday party or brunch…and that's when I remembered my love affair with the Winter Park Farmers Market Quiche.
Because I've spent the last year playing with CB Supplements Collagen I know it acts as great thickener to soups, sauces, and cheeses. I knew a good quality cottage cheese was the least inflammatory of the dairy options, and thought, hmmmm 'I wonder if the acid from the cheese would help activate the 'binding properties' of the collagen, that when combined with eggs would create a creamy decadent quiche without all the extra calories'.
Ummmm, y'all…that s&*# WORKED!
I couldn't believe it! It's the BEST quiche I'VE EVER MADE and BONUS of all BONUSES, the collagen didn't just improve the texture, the collagen includes 19 amino acids — which help build strong muscles, repair the gut, and strengthen hair, skin, and nails (see Benefits of Collagen).
Give this one a shot and let us know if you don't think it's THE BEST quiche you've EVER tasted too!
Prep Time
10 minutes
Cook Time
25-40 minutes
Total Time
35-50 minutes
Yield
8-10 servings
Ingredients
1 Spray Extra Virgin Olive Oil
5 Oz Diced Pancetta or 4 Slices Bacon, Diced
4 scoops CB Supplements Unflavored Multi Collagen Protein Powder
2 Cups Cottage Cheese (I used Trader Joe's)
6 Cage-Free Eggs
3 Cups Raw Spinach, Chopped
4 oz Swiss Cheese (I recommend shredded or grated)
1 tsp Garlic Powder
1 tsp Onion Powder
1 tsp fresh cracked black pepper
2 tsp Pink Himalayan Salt
Instructions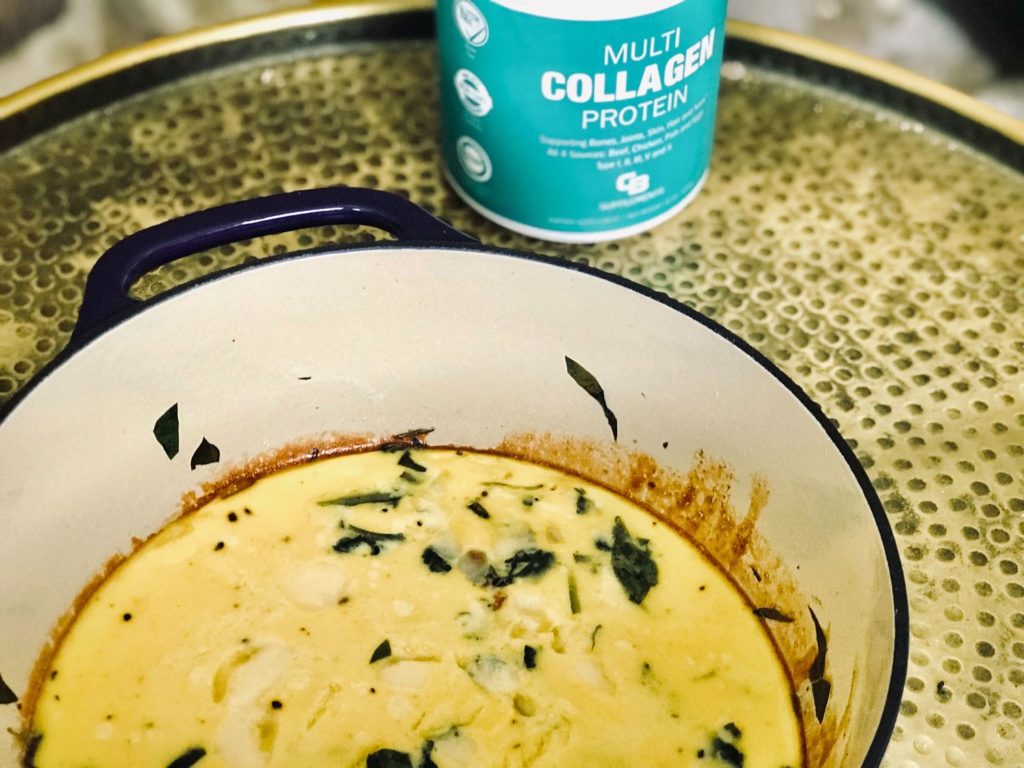 Preheat oven to 350.
Crack 6 eggs to large bowl, and set aside.
In a large cast iron skillet or dutch oven, spray olive oil and heat over medium-high heat for about 2 minutes (if the oil starts to 'smoke, you've gone too long or too hot the oil is no longer safe for consumption. Simply discard it and try again)
Add diced Pancetta, with a wooden spoon stir a couple times for about 3 min, or until you can see the fat has released.
In a blender combine cottage cheese and collagen. Pulse and then blend for about 20-30 seconds. (you may need to shake the blender a little for it to combine)
Add chopped spinach to pancetta, stir and let wilt for about 2 minutes.
Whisk eggs until combined (about 15 sec), then add collagen/cottage cheese mixture, whisk again, add powdered spices and whisk again.
Remove pan from heat, and pour the egg mixture over the top of the spinach/pancetta.
Place in oven with lid for 25 minutes. (if your pan doesn't have a lid, just use foil to keep the quiche 'moist' *you're welcome)
Remove from oven, and insert a kitchen knife into the outer edges and a few places in the center of the quiche. You will know its done when the knife comes up clean. If its not clean, place back in the oven in 5 minute increments.
Nutritional Facts
Calories: 185
Protein: 20.5g
Fat: 9.1g
Carbs: 4.6g
Fiber: 0.4g
Net Carbs: 4.2g
Sugar: 3g
Recipe Tips
I tried a version of this recipe with whole caramelized onions and garlic, and FOR ME, it was too strong. I preferred the 'hint of' well distributed flavor throughout the quiche using powdered spices. (plus, it made the recipe that much easier too)
If you can't find Pancetta, don't worry, you can slice and dice 4 slices of bacon, Canadian bacon, or ham if that's all you have on hand. But unless you just don't eat pork, (who are you anyway ;-)) don't skip it! It adds SO MUCH delicious salty flavor to an otherwise neutral tasting quiche
If you don't like the bite that comes with Swiss cheese, you can switch out for Monterrey jack or white cheddar. (OR if you play around with this recipe each time you make it! You may prefer a blue cheese or feta! Don't be afraid to make it your own!)
If you want your quiche to be velvety smooth, start with a 25 minutes cook time, and if it's not done, place back in the oven in 5 minute increments. This is because everyone's oven cooks a little differently. Once you know how YOUR oven cooks the quiche, just use that same time from then on out! Just pull it out when the knife comes back clean, even if it 'looks' a little overdone. Remember it's still cooking for a few more minutes after you've pulled it out of the oven.