We all have that kid that just wants strawberries and Pirate's Booty all day every day.
If you're a parent — and I'm sure you are because you're reading this — you know the repercussions of not getting enough protein at meal time.
At best, you get this 60 minutes later:
Daddy, I'm huuuungry!
At worst, you get this 60 minutes later:
Fall-to-the-ground-crying-I-don't-understand-why-I'm-freaking-out-dear-god-help-me-my-life-is-ending
Sigh.
We know why little picky eater Johnny! We know!
Why Protein is Important for Kids
Foodinsight.org states that for kids, "Protein is critical for the developing brain and immune system and the growth of the body's supporting structures (muscle, collagen, hair)". Per the 2015-2020 USDA Dietary Guidelines, kids from 4 to 9 years old need around 20-30 grams of protein a day.
We all get it. Protein is important. Protein is crucial for all kinds of child development. Protein fills their belly and combats hangry-ness.
But, all that to say, this doesn't make it easy on us parents.
We need help with ideas because some days processed carbs (with little to zero protein) become the requested food source from the moment they wake.
Protein can help, and in particular collagen protein can help with brain health.
If you're looking to insert more high protein foods into your kids diet, here are some collagen-packed recipes to try.
Why Collagen Protein for Kids?
For those already understanding the benefits of collagen for kids, jump ahead.
For those that don't, give this a read: Children & Collagen: Your Guide to Benefits, Safety & Tips. Collagen protein can help kids with their bone health, skin & wound healing, sleep and much more.
We also created a thorough resource on the how to use/eat/drink collagen peptides powder, which will help you experiment and help them ingest more protein (for example: dilute collagen powder in hot water and add to their fruit juice). Every scoop of collagen provides 7g of protein, if you were curious.

14 Collagen Protein Recipes for Kids
We've organized these kid-friendly recipes into categories (Breakfast, Snacks, etc.) to help you find a recipe quickly and also listing them here:
Collagen Waffles
Tigernut Paleo Collagen Pancakes
Pumpkin Spice Collagen Donuts
Creamy Collagen Quiche
Collagen Meatballs
Collagen Hummus
Collagen Nut Butter
PB&J Collagen Raspberry Poppers
Peanut Butter Collagen Krispies
Collagen Oatmeal Chocolate Chip Cookies
Tigernut Collagen Cookies
Collagen Hot Chocolate
Peanut Butter Collagen Smoothie
Collagen Chocolate Cherry Shake
These kid-friendly protein recipes have been carefully plucked from our entire library of 50+ collagen recipes.
Now, let's dive in and start with breakfast!
Protein Breakfast Recipes for Kids
Get rid of that cereal and instead pack some protein into your next breakfast for the kiddo. Your sanity will thank you.
Protein count: 22g
A typical waffle with syrup contains 700-1,000 calories, over 100g carbs, and 70g sugar. YIKES! But, kids love the texture, crunch, and heft. Here's one your kiddos will still find delicious and packs 20+ grams of protein.
Protein count = 13g
These collagen-infused Tigernut pancakes pack a powerful protein and prebiotic punch! Tigernut is a root vegetable that's super allergy-friendly because it's neither a nut or a grain. It has a slightly sweet and nutty flavor, so it is good for baking desserts because you can add less sugar (#parentwin).
Protein count = 6g
These donuts are warm, delicious, and each have 6 grams of protein, 19 reparation amino acids, healthy/healing saturated fats, and ½ a daily serving of collagen, and less than 1g of sugar per donut!
Protein count = 20g
Collagen is great for dishes like this! Acid from the cottage cheese activate the binding properties of collagen and combined with eggs creates a creamy decadent quiche without all the extra calories (and adds 19 amino acids and proteins!)
But, don't eggs already have collagen? Yes, eggs contain collagen, but not in the way you're probably thinking.
Protein Lunch or Dinner Recipes for Kids
We only have 2 protein recipe ideas for lunch/dinner that are truly kid-friendly, but we continue to add to our overall recipes monthly.
Protein count = 5g (per meatball)
Need a new idea for how to incorporate another scoop or two of collagen in your family routine? Why not try this simple, protein and healthy fat-packed, collagen meatball recipe! Your kids will love poppin' them.
Protein count = 6g
Combined with another side, hummus can totally be a protein-packed light afternoon meal for your kids. This recipe combines high fiber carbs with a hefty dose of protein from the cottage cheese and lots of preparative amino acids from the collagen. It's Hum(mus)-Diggity delicious!
Protein Snack Recipes for Kids
Never leave home without snacks! As a Dad myself, I unfortunately learned this the hard way.
Protein count = 10g (per serving)
Here's a fun new way to incorporate more protein into your kids weekly plan with some collagen-infused nut butter!
Protein count = 5g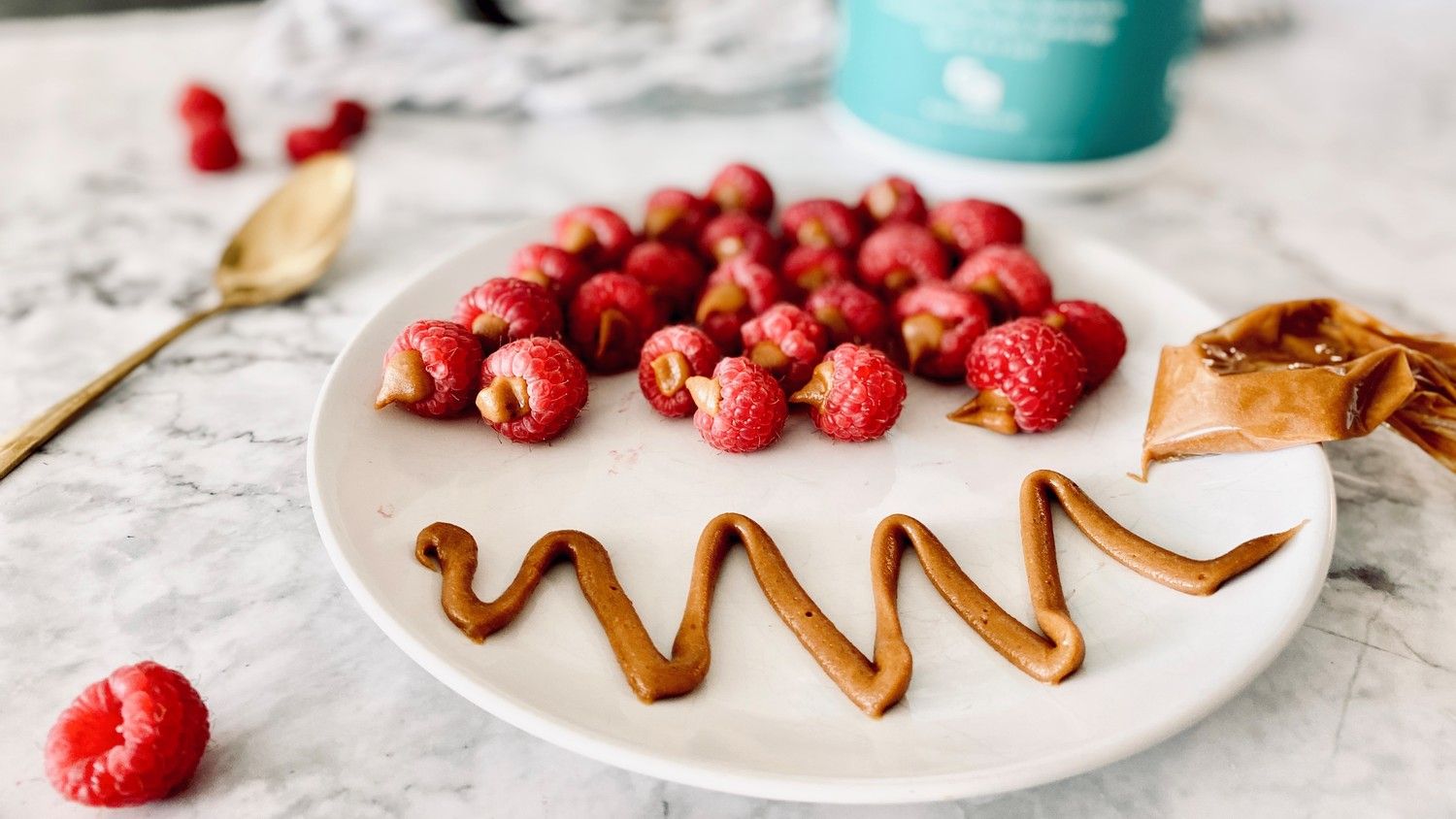 This is a great collagen-packed snack that's a little tart, a little sweet, and low glycemic and low calorie. These collagen raspberry poppers will help keep the party in your body going all day (or night) long!
Protein count = 5g 
The classic kid favorite, Rice Krispies Treats, but healthier. These have lower sugar and carbs while maintaining flavor integrity and power packed with gut-nurturing protein and collagen!
Protein Cookie Recipes for Kids
Try not to sneak one yourself. Actually, DO try — you deserve it. 🙂
Protein count = 4g 
We love this oatmeal chocolate chip cookie because its portable, stupid SIMPLE to make, yummy, not too sugary, and has some great healthy fats.
Protein count = 5g 
Tigernut is a tubular that grows underground like a parsnip and when dried out can be ground into a fine powder. When you combine with the benefits of collagen protein, you get a nutrient packed (and delicious) protein-rich cookie kids will love!
Protein Drink Recipes for Kids
There's more than shakes & smoothies, ya know!
Protein count = 7g 
This hot almond butter collagen cacao (AKA Super-Good-For-You-Hot-Chocolate) has the oh-so-delicious taste of Nutella but contains a lot more nutrients — including you know what (protein!) Both kids and parents will sip and smile.
Protein Shake or Smoothie Recipes for Kids
Simple. Easy. Fast. Shakes and smoothies are a great way to get lots of protein in your kid's daily routine.
Protein count = 24g 
This recipe uses PB2 (but substitute for the real thing with almond or cashew butter), spinach, hemp seeds, and drops of english toffee stevia. 24g of protein!
Protein count = 26g 
Another protein-packed Shake that many kids will absolutely love (Cherry-anything seems to work well for many kids' foods and treats). It balances all the macro-nutrients, boosting 26 grams of protein.
Final Thoughts
If you strike out with any of the above collagen protein recipes for kids, there's no need to fret because we add more recipes monthly. Check back regularly — a collagen grilled cheese is destined to be curated!
Also, if you find a way to get protein in Pirate's Booty, please let us know. 🙂