The topic of vegan collagen and vegetarian collagen may be one of the most layered and nosiest topics around collagen today. Thankfully, with the help of our very own biochemist, Dr. Cate M.D., we'll cut through the noise and give you all the facts.
So, why is this topic so difficult to sort fact from fiction? Well, in case you didn't know, collagen is so hot right now.
Supplement companies know this and they — unfortunately — push the boundaries and muddy the details when they market collagen products such as powders, pills, and drinks. This can both confuse and misinform consumers.
But, let's not get too far ahead without first defining and understanding vegetarianism to then understand how collagen fits into the conversation.
Vegetarianism 101
There are plenty of nuances here and understanding each vegetarian type will help you understand the big questions around collagen, vegetarians, and veganism (the strictest of all vegetarians).
Types of vegetarians
When many people think vegetarian, they think "no meat". However, there are various types of vegetarian diets, and some of those types do allow some animal products. Here's a quick rundown of their restrictions:
Lacto-Vegetarian. Allows dairy products (milk, cheese, yogurt, butter).
Ovo-Vegetarian. No dairy, but allows eggs.
Lacto-ovo Vegetarian. Allows dairy products and eggs.
Pescatarian. No dairy or eggs, but allows fish.
Vegan. No animal products of any kind — this is the strictest of all vegetarians. Also note that veganism, which increased in the US by 30-fold, extends beyond eating animals for food and into lifestyle choices that exclude animal exploitation or cruelty.
Reasons for being a Vegetarian
Many people choose one of these vegetarian diets for very personal reasons including:
ethical
religious
cultural
environmental
health (although, this is controversial)
Now that we know what vegetarians (including strict vegans) can and cannot eat, let's explore collagen protein in general. Then, we'll help you understand whether collagen protein from food or supplements makes the "OK to consume" list if you practice vegetarianism of any type.
Collagen Protein is essential for ALL!
Vegetarian or not, collagen protein is part of all of us and a critically important protein to every animal on the planet, including humans. This is just a biological fact y'all.
In fact, collagen makes up nearly 1/3 of our total protein. It's found in our connective tissue, bones, cartilage, skin, hair, and nails — supporting all critical bodily functions. Every person in the world generates collagen naturally via fibroblasts, and that complex system relies on nearly every nutrient to be successful. Collagen protein's amino acid profile is unique because the sequence of 3 specific amino acids (glycine, proline, hydroxyproline) forms a bioactive peptide and is found nowhere else in the world.
Natural collagen production declines
Here's a sobering fact. Like an old sputtering engine, our bodies struggle to keep the collagen production process moving around 25-30 years old. Pair getting older with excess UV exposure, genetics, and stress — by the time you're 40 you'll be losing 1% of your collagen protein per year and it escalates every decade after. Oof. The impact of this loss of collagen protein is felt everywhere in our bodies since, as we learned above, it's found nearly everywhere.
Options to combat collagen decline
Now that we know science confirms we ALL start losing this awesome protein in our mid to late twenties, what can we do?
Whether you're Vegan, Pescatarian, Carnivore, Keto, Fruitarian, Mediterranean, etc., you only have two options to help your body produce more collagen to combat the natural loss of collagen:
"Eat more collagen!", per Dr. Cate, M.D., from collagen-rich foods.
Take a collagen supplement
"How convenient since you sell collagen supplements", you say. We do wish there were more options, but there are not. We have scientific evidence showing eating collagen stimulates collagen production and zero evidence proving there's an alternative. This lack of evidence presents challenges for vegetarians of all types. Let's explore these problems further.
The 3 problems collagen presents to Vegetarians
Though there are many questions around vegan/vegetarian collagen, most of them can be answered by simply focusing on three scientific facts:
Collagen protein comes from animals.
Plants don't have collagen.
Zero evidence for collagen "boosters" or "builders".
Here's where the collagen conundrum gets dicey for all types of vegetarians, but especially vegans since they're the strictest of all vegetarians. Let's break down each of these facts.
1. Collagen protein comes from animals
Collagen protein, in food format, comes from 4 animal-based foods (bone broth, certain organ meats, meat on the bone including; cartilage, skin, bone, joint material, and eggs). That's it. Aside from gelatin, there's no other food you can buy at your local grocery store or your favorite online store that'll provide collagen protein.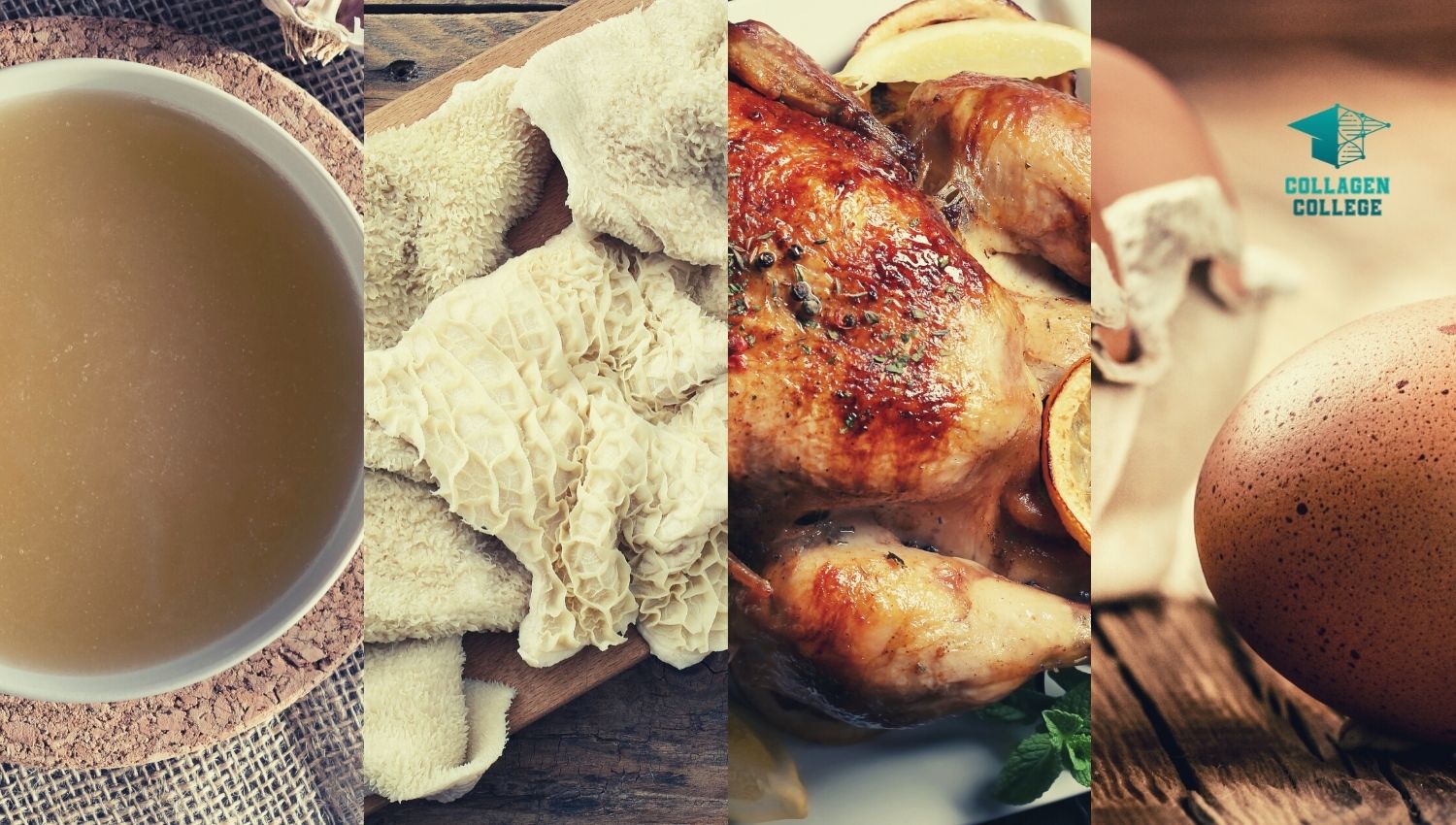 Collagen protein, in supplement format (called hydrolyzed peptides), is made by extracting collagen from these collagen-rich animal parts:
Skin
Bone
Cartilage
Joint Material
Eggshell Membrane
Collagen peptides, like the powders in our multi collagen store, contain beef, chicken, fish, and eggshell membrane. In a nutshell (vegan-friendly nutshell I should say 🙂 ), collagen protein is only found in animals.
2. Plants don't have collagen
OK, biology shows that plants are void of collagen, but let's talk more about the why. Why don't plants have collagen protein?
Plants are not a good source of any kind of protein, in general. Collagen is a protein that plants simply don't have.
Contrarily, animals are really good at making collagen.
Though some plants, such as soybeans, are considered a complete protein, you need to consume a lot to get adequate protein. Spinach is a great example — 1 cup outputs merely 0.9g of protein. Furthermore, plants are missing an essential component of collagen. Hydroxyproline.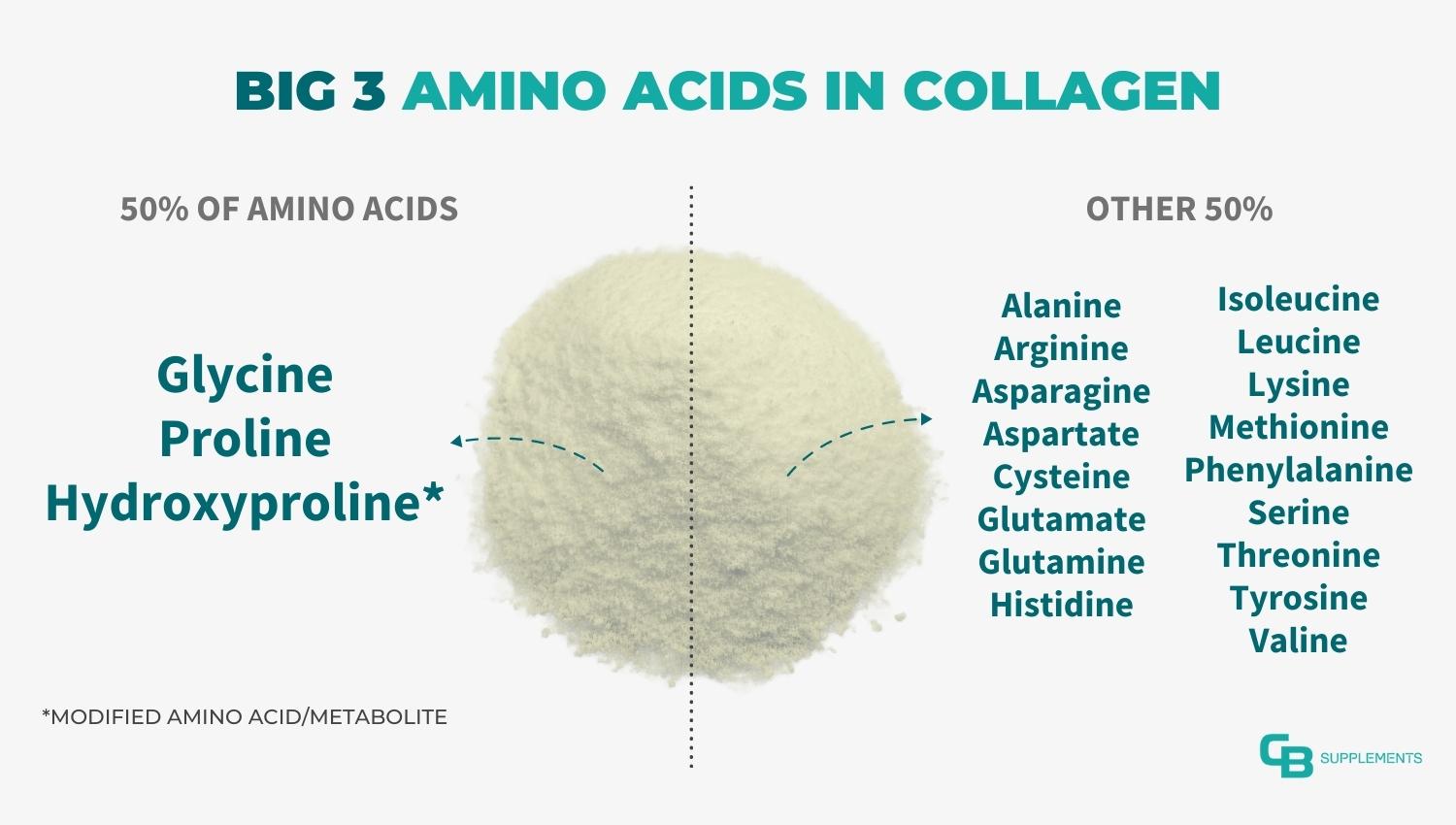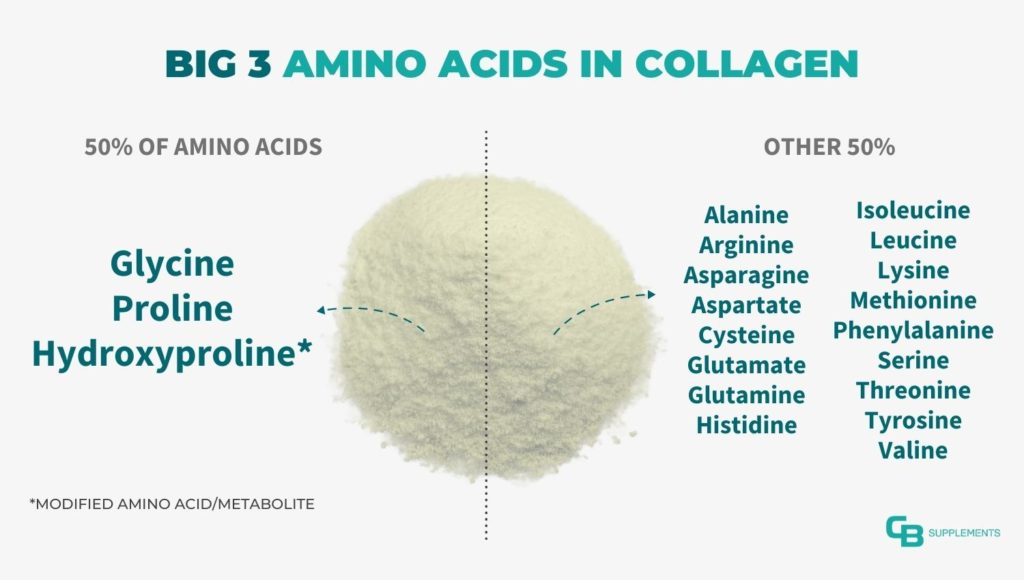 This modified amino acid is one of the "Big 3" in collagen. When hydroxyproline combines with glycine and proline, a bioactive peptide is formed — this is the MAGIC of collagen's rejuvenating healing properties!
3. Lack of evidence for "boosters", "builders"
OK, so vegetarians can't obtain collagen protein by eating collagen-rich food and/or supplements. However, what about these "collagen-boosting" or "collagen builders" foods? What if their diet is full of leafy greens, red peppers, berries, beans, garlic, and much more? Doesn't all these nutrients, including loads of vitamin C, be enough to increase their natural production of collagen?
Though fruits and vegetables are important to a healthy diet, they do not contain collagen and there's zero evidence in scientific literature proving these "collagen-boosting" foods (aka "collagen builders") actually stimulate fibroblast production. Zero, folks.
Here's a listing of those typical foods that claim they boost collagen:
Grapefruit. Zero evidence.
Berries. Zero evidence.
Red Pepper. Zero evidence.
Leafy Greens. Zero evidence.
Garlic. Zero evidence.
Beans. Zero evidence.
Cashews. Zero evidence.
Tomatoes. Zero evidence.
Bell Peppers. Zero evidence.
Furthermore, if you're vegetarian you're probably getting enough vitamin C already. Therefore, "boosting" your collagen with even more vitamin c through an additional bowl of berries or handful of greens, etc. doesn't translate into more fibroblast stimulation. Moral of the story? There's no hanging your hat on vitamin C here because collagen requires nearly every nutrient we have — more about the truth of vit C and collagen.
"I'm a nutrition scientist and recommend it when I can. The high quality of the multiple types of collagen is superior to anything else on the market."
- Michelle (Tappahannock, VA)
Quick Review
Let's do a quick review of how collagen presents problems for vegetarians:
Collagen protein comes from 4 types of animal-based foods. Collagen supplements are made from animals.
Plants aren't good at making protein and don't contain collagen protein. They're also void of hydroxyproline which is critical to collagen

synthesis

.
Some claim vegetarians can stimulate fibroblast production by eating "collagen boosting" or "collagen building" foods. However, there's zero evidence to support these claims.
Now, time to address the collagen supplement market in general and how some supplement products bend the truth.
How Supplements mislead Vegetarians
False advertising anyone?
As a partner of a collagen supplement company that works very hard to offer accurate information to consumers (hence Collagen College™), I'm truly ashamed that vegetarians and vegans are misled when it comes to buying collagen supplements. Marketers know that the word "collagen" is hot, so products of all shapes and sizes are trying to get a piece of the growing collagen market. Unfortunately, this opens the door to false advertising and the consequence is misinformed consumers.
Here are 2 truths about vegetarian and vegan collagen supplements.
Truth #1: "Boosters" & "Builders" are not Peptides
This is the single most confusing concept in this entire conversation.
Vegan-friendly collagen drinks and powders don't actually contain collagen protein. Instead, they're replaced with ingredients that claim they'll "boost" your collagen once consumed. As we explored in liquid collagen vs powder, here are some of the ingredients you'll see instead in collagen boost drinks:
Juices, Fruit, Extracts (e.g. lemon, blackberry)
Oils (e.g. lavender, orange, lime)
Tea blends (jasmine green tea, hibiscus)
Vitamins, Minerals (C, hyaluronic acid, zinc)
Without peptides, your collagen boosting fibroblasts will have to operate without their most powerful collagen boosting signals. They can still produce collagen, but won't be stimulated to do so as strongly.
— Dr. Cate
BUYING TIP
To determine if a collagen product actually contains collagen, simply look for "collagen peptides" or "hydrolyzed collagen peptides" on the label. If not listed in the ingredients, you won't be consuming actual collagen. Also, remember that
hydrolyzed collagen and collagen peptides are the same thing
!
Vegan Collagen "Boosters" Common Ingredients
Let's showcase this lack of collagen peptides further. We've compiled the most common ingredients you'll find in vegan collagen booster products, which come in powders, pills, or liquids.
"Proprietary Blend" — most powders or capsules lead with this ingredient
Fermented Pea Protein
Fermented Brown Rice Peptides (again, not collagen peptides)
Mushroom
Bamboo Extract
Berries
Spinach
Grapes
Biotin

Hyaluronic Acid

Vitamin C
To be fair, we have found a few products claiming to be "collagen boosters" that are forthcoming in their product description stating they don't include collagen. For example, this product from Golde has this in their production description:
"…does not contain any actual collagen."
Now, onto the second truth.
Truth #2: Non-GMO Vegan collagen doesn't exist
There is not a vegan collagen supplement (that's non-GMO) currently on the market — nor will there ever be. As we detailed above, collagen comes from animals.
However, someday GMO vegan collagen could exist.
In a world where everything can be manipulated, so could collagen. Biotech scientists are trying to find ways to emulate amino acids and produce a form of collagen made from genetically modified yeast and bacteria. As with anything GMO, we'd highly recommend putting in the proper due diligence if GMO collagen products hit the market one day — and the Center for Food Safety agrees.
The genetic engineering of plants and animals is looming as one of the greatest and most intractable environmental challenges of the 21st Century.
— Center for Food Safety
Source
Now that you know these two truths, let's talk about the real collagen options available to vegetarians and vegans.
Collagen options for vegetarians
If vegetarian or vegan and have been reading along, you may have concluded that it's impossible to help your body increase collagen.
As we've learned, the only surefire evidence-backed way to stimulate fibroblasts to create more collagen is to EAT collagen through collagen-rich foods (animal-based) and/or collagen peptides (also, animal-based). Is there any other way? Maybe, but there's no evidence to support it.
Let's explore 4 alternate options vegetarians and vegans can possibly boost their collagen production.
1. Eat amino acids present in collagen
Since we know collagen is abundant in glycine and proline, could you "encourage" your body to create more collagen naturally? Could you eat foods high in glycine and proline and/or supplement these two amino acids with the hope they jumpstart fibroblasts to manufacture more collagen?
Mark Sisson suggests if you're a strict vegan, you could "cobble together your own amino acid mixture". However, he quickly states that it won't have the same effect:
Eating the amino acids that make up collagen separately doesn't have the same effect on those collagenous tissues as eating them together in a collagenous matrix.
— Mark Sisson
Remember, collagen is more than just glycine and proline, so this option is shortsighted.
2. Take a hydroxyproline supplement
Remember hydroxyproline's essential role in collagen from above? Well, if you're vegan, hydroxyproline should be your best friend.
Vegans may be deficient in the hydroxyproline amino acid because studies show they frequently suffer from iron deficiencies since they don't consume enough animal (heme) iron. Heme iron makes up 95% of the functional iron in our bodies. Without enough animal iron, your body will struggle to make hydroxyproline from proline. And if you're deficient in hydroxyproline, guess what you'll have trouble making? Right. Collagen.
However, buying a true vegan hydroxyproline supplement that's passed vegan certification may be too daunting of a task to choose this option.
3. Find the right vegetarian-friendly collagen peptides
Are there vegetarian-friendly collagen peptide supplements? Yes, for some types of vegetarians. You need to inspect each supplement's ingredients carefully.
Here are vegetarian's options broken down by the 5 types of vegetarians.
Lacto-Vegetarians. Though lacto-vegetarians introduce dairy to their diets, they unfortunately still have no options when it comes to collagen supplements. Collagen supplements use

bovine

skin for collagen, not dairy products.
Ovo-Vegetarians. Ovo-vegetarians introduce eggs to their diet and thus give them a single option for collagen supplementation:

eggshell membrane

 collagen. Though available, only a few brands (such as this one) offer a collagen supplement sourced only from eggshell membrane.
Lacto-ovo Vegetarians. Lacto-ovo vegetarians are in the same boat as Ovo-vegetarian since they also allow eggs. They can safely consume an eggshell membrane collagen.
Pescatarians. If you're Pescatarian and want to take a collagen supplement, grab a marine collagen.

Marine

collagen is fairly popular and many brands offer a marine-sourced collagen supplement.
Vegans. Unfortunately, there will never be a non-GMO vegan-friendly collagen peptide supplement on the market. Not because of "supply chain issues", but because biology says otherwise as we've discussed throughout this article.
4. Wait for GMO vegan collagen peptides
GMO vegan collagen could happen one day.
However, how's that old idiom go? "A watched pot never boils", right?
GMO vegan collagen is still limited to laboratories and the product could face financial hurdles too big to overcome. "This could get really, really expensive", says Dr. Cate. GMO vegan collagen will also require rigorous and time-consuming testing to ensure it's safe to consume.
KEY POINT
We could be years away from seeing affordable products like this sitting on shelves.
Final Takeaway
If vegan, your options are extremely limited with collagen and collagen supplements. Other types of vegetarians will have a few options to help increase their body's overall collagen.
Collagen "boosters" or collagen "builders" sound like legitimate products on paper that could help your body produce more collagen. They also come in shiny sexy packaging, making it all that harder to ignore! However, as a consumer, you're spending good money on a product that doesn't actually contain collagen protein and shows no evidence that it will do what it claims — boost/build your collagen!
On behalf of all supplement marketers, I do want to apologize for such ambiguousness. Hopefully, our collagen handbook will help you understand this big muddled conversation that's critically important to understand for vegetarians throughout the world.