Cookies that make my tummy go yay!
YES please!
So I'm sure it's super obvi by now that I'm a little obsessed with CB Supplements Collagen and am constantly trying out new fun ways to fit it in.
Collagen is the most abundant protein in the body, and comes from bones, muscle, skin, and tendons.
CB Supplements has the  highest grade multi collagen ingredients available — including NSF certified multi collagen. That means that the source of the protein isn't just from grass-fed cows, cage-free chicken OR wild-caught fish — it's from ALL of them! This  means you get 5 different types of collagen that address different needs in your body with EVERY scoop.
I love this cookie because its portable, stupid SIMPLE to make, yummy, not too sugary, has some great healthy fats without being an inflammatory cream cheese bomb, gives me protein to keep me satiated and amino acids via the collagen to help repair my muscles from the day's workout (see how collagen benefits muscle mass & weight loss).
Note: your kids will love these cookies! More info around kids + collagen here:
Prep Time
5 minutes
Cook Time
8-10 minutes
Total Time
13-15 minutes
Ingredients
½ Cup Oatmeal
2 Heaping TBSP CB Supplements Unflavored Multi Collagen Peptides
¼ cup Almond Flour
1 tsp baking soda
1 tsp Pink Himalayan Salt
2-3 TBSP Grassfed Butter (melted and cool to touch)
1 Cage Free Egg
1 tsp Vanilla (if you are using a non-flavored Oatmeal)
(1-2 TBSP water if needed)
Instructions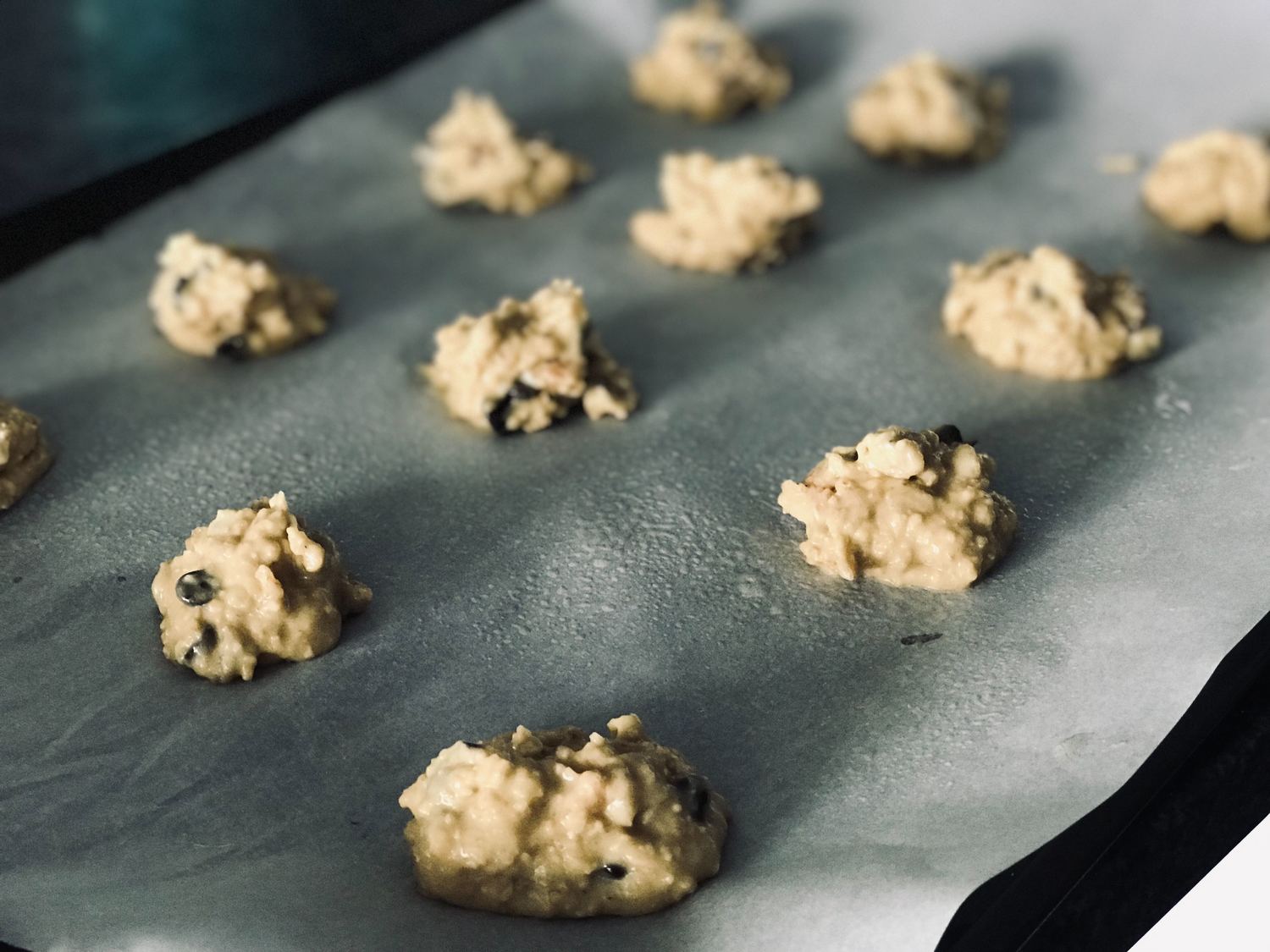 Preheat oven to 350 degrees F. Line a large baking sheet with parchment paper.
In a large bowl, Oatmeal, Collagen, Almond Flour, Pink Himalayan Salt, and Baking Soda. Stir in egg and butter . Fold in chocolate chips.
Using a spook or cookie scoop, Drop dough onto prepared baking sheet about 1.5 inches apart.. Bake for 8-10 minutes until cookies just begin to turn golden brown on the edges. They may look underdone, but that's just because they're made with collagen and almond flour. Allow cookies to cool for 5 minutes on baking sheet before serving them or stuffing them in your own face. Makes about 12 cookies.
Recipe Tips
Oatmeal varies in texture and nutritional impact. If you are trying to keep this a 'healthier' cookie, I'd avoid highly process 'quick oats' or those with LOT of sugary additives. If you can find a PROTEIN, low CARB, high fiber, low SUGAR oatmeal like the two packets I used in this recipe from Optavia, it will save you'll be able to have your cookie and your daisey dukes too.
The same is true with your choice of Chocolate Chips. I prefer Lily's Dark Chocolate chips because they use Stevia as the sweetener and tastes just like a normal chocolate chip!
If you want a more dense cookie, skip the water. If you are say, keto, and want a more 'buttery cookie', add an additional TBSP of Grassfed butter.
You can also add a few chopped up dried cherries for a little extra sweetness that won't cause you to need a nap after.