Updated for 2022!
In 2020, I wrote a response to this Quora question:
Which is the world's best collagen supplement?
Bold question. Maybe one without a definitive answer. But I attempted anyway.
Now, just to address the elephant in the room — YES, I'm a partner at CB Supplements. YES, I am posting this on our website. And YES, you can buy multi collagen here in our store.
If you're still reading, thank you for accounting for my bias
Furthermore, on the transparency card I'm playing here, I'm re-posting this content (with some adjustments) while — truly — throttling my ultimate enthusiasm for the CB Supplements brand. I was consuming collagen before I became a partner so I've purchased other brands and went through their end-to-end customer experience.
Does that help you eye-rollers right now? 🙂 I hope so.
I do think this topic (the best collagen supplement) can be broken down into some very logical, bias-free characteristics you can use to research and find the right one for you. 
Since collagen can be taken at really any age, the collagen market is exploding and there are new brands popping up online (and on shelves) every month. I'd guess there are probably at least 100 as of today. The market is becoming saturated and confusing. My point in publishing this point-of-view is to not necessarily tout CB Supplements' collagen — but to offer a resource/shopping guide to help you, the consumer, carry out the necessary due diligence when shopping for a top rated collagen supplement.
With that said, let's dive in and look at 5 areas should you should research when seeking the best collagen supplement in 2022.
5 Key Components to Research
If you're using the word "best" here, then I assume you're seeking a collagen supplement with the best:
Could there be something else I'm missing here from a consumer perspective? Sure. But, I think these 5 characteristics are on every person's mind as it impacts the 1) benefits they get out of the product 2) any third-party certification 3) their wallet 4) flexibility in choice and 5) customer satisfaction.
Let's dive into ingredients first. Because honestly, if a collagen supplement doesn't get this part right — all other components to this equation don't really matter. Quality ingredients first and foremost!
1. Ingredients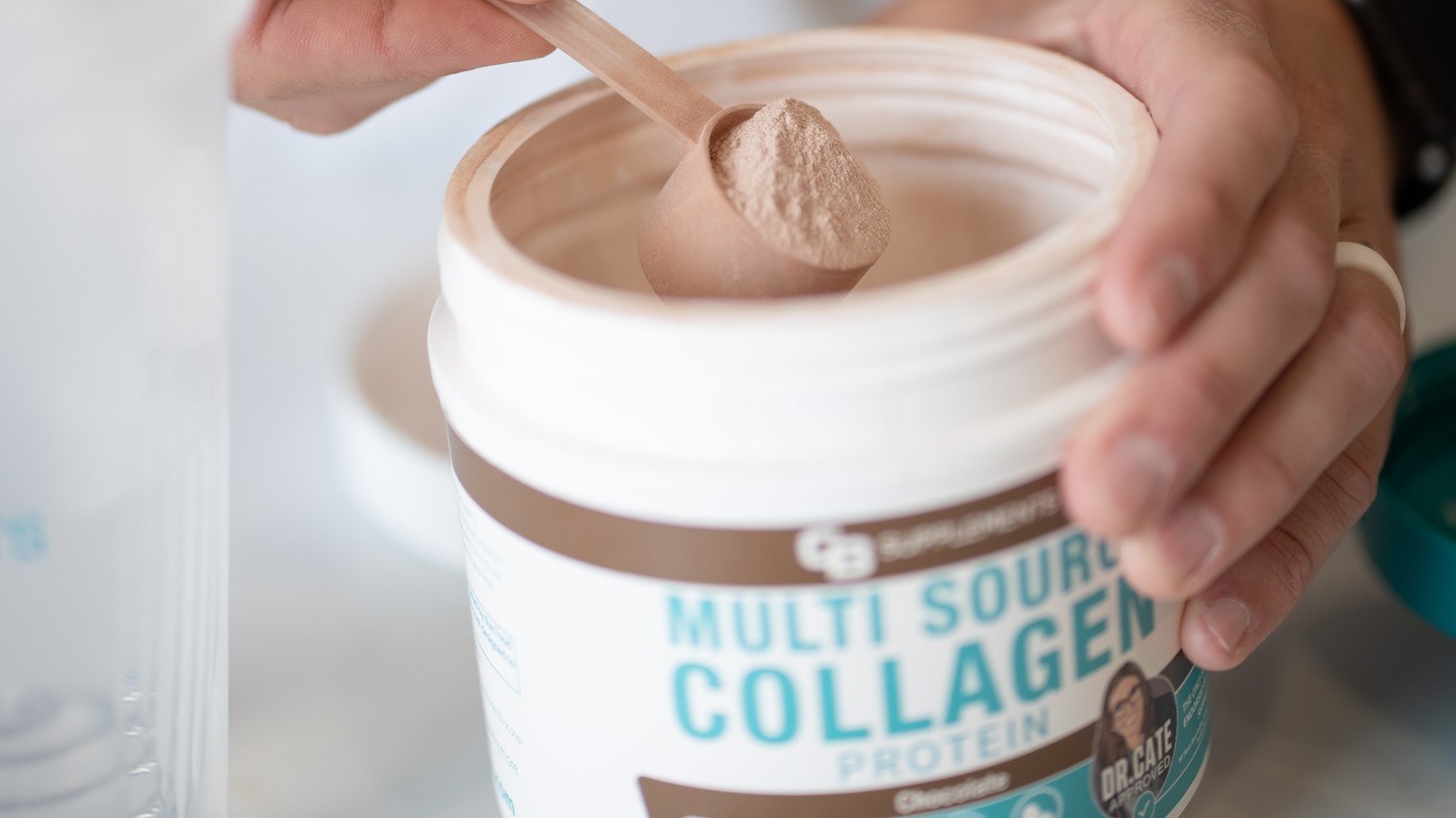 How do you evaluate a collagen supplement's ingredients?
This is easy. Choose a multi collagen that comes from all 4 food sources (beef, chicken, fish, & eggs) because it'll provide all 5 types of collagen (I, II, III, V, X).
Also, be sure the brand is all about:
Grass-fed Beef
Non-GMO
Gluten-free
Manufactured in a GMP (Good Manufacturing Practice) facility and (if this matters to you, and it does for most) in the U.S.
Free of Artificial Sweeteners (especially their flavors)
Bonus: Paleo-friendly, Lactose-free, Soy-free, Dairy-free
Extra Bonus: an M.D. and/or Nutritionist supports the collagen supplement (for example, Dr. Cate, M.D. supports our collagen).
2. Third-party Certification
This is a big one (and piggy-backs off ingredients above).
There is no gray here. Either a collagen supplement has gone through rigorous testing with a legit industry-leading third-party certification organization, or it has not.
Here are some sobering facts:
There are 85,000+ supplements on the market.
The Government overseeing this vast market is limited in resources for quality control.
Because of this quality control scarcity, supplement companies get away with using heavy metals, solvents, toxic ingredients, and banned substances (this study found 97% of 776 supplements had "unauthorized pharmaceutical ingredients").
Supplement companies can use wildly inaccurate labels. The label says 8g of collagen protein, but it's actually 4g with a lot of crap! (crappy supplements send 23,000 to ER every year)
Any brand can hire a manufacturer to produce a collagen supplement, work up some fancy branding, and sell it via their website or Amazon. The process is fairly straight-forward. You can do it on the cheap (we know, because that's how we started). There aren't too many boxes to check to sell collagen to the masses.
But, the federal government is only catching a very small percentage of companies prioritizing profits over safety. Eek.
Herein lies the problem for the consumer and why you need to research your collagen supplements before purchasing. Is what's on the label actually in the bottle? Are the ingredients quality? Has this supplement company taken any shortcuts?
Here's the point: without a collagen brand boasting third-party certification you will never know for sure. This is why we chose NSF Certification. It ensures our collagen powder supplement:
does not contain 270+ substances banned by major athletic organizations
verifies what's on the label is in the container
has no unsafe level of contaminants
If you're shopping for a top rated collagen supplement, always look for third-party certification to ensure it's truly a quality product.
Also, if the collagen has its purity tested, that's a HUGE bonus.
3. Price
Shoot for ~$40 for around 60 servings per container. That's a great price point per serving.
You can buy a container of our premium grade unflavored multi collagen powder for $0.62 a serving if you subscribe and use one of our many $5 off coupons (check out our Instagram for one). If you can get a collagen supplement for around that amount per serving, that's a great deal.
Collagen containers (and servings per container) come in all various sizes — read the label, do the math. Here's a collagen powder comparison chart to help you further evaluate.
4. Selection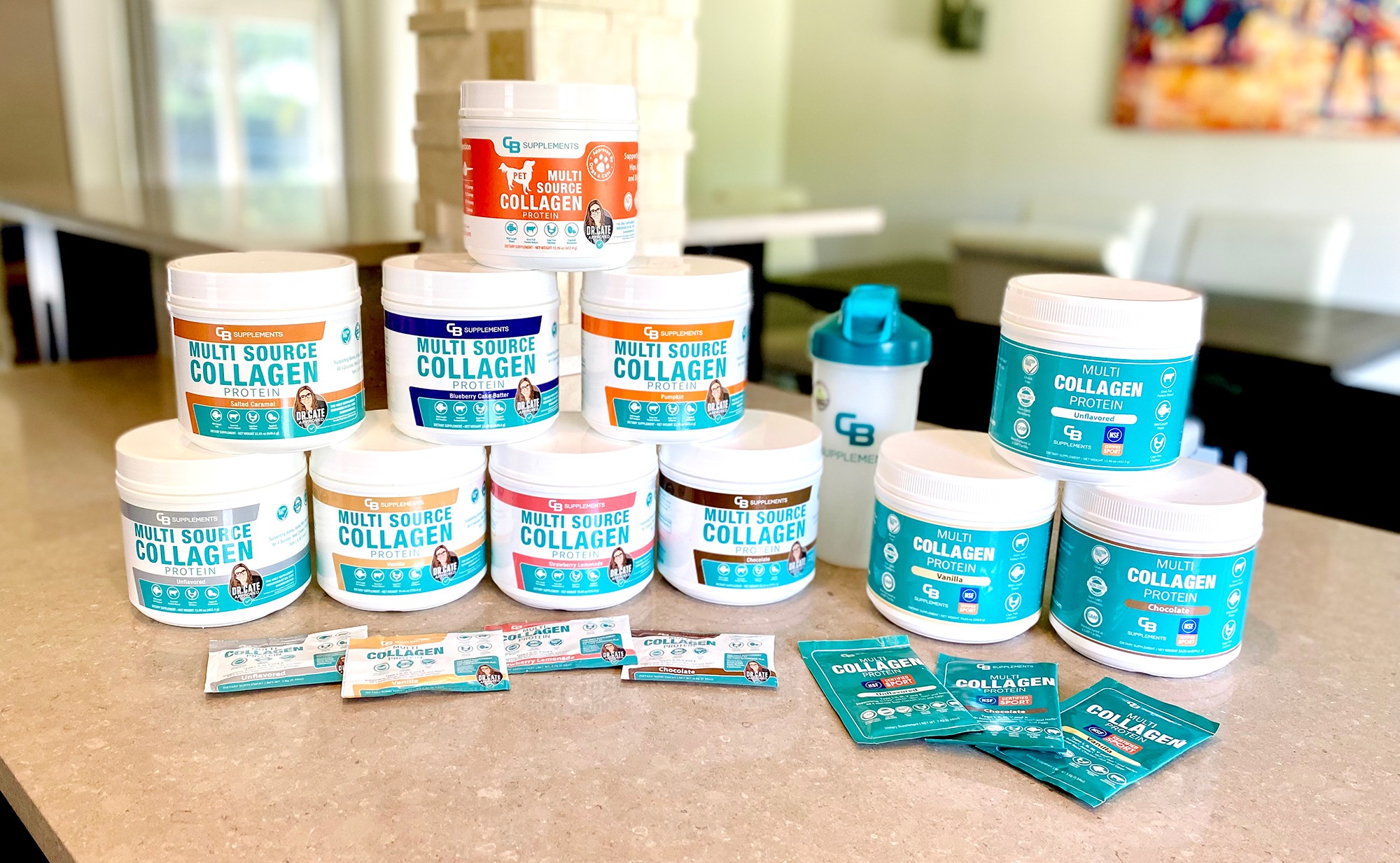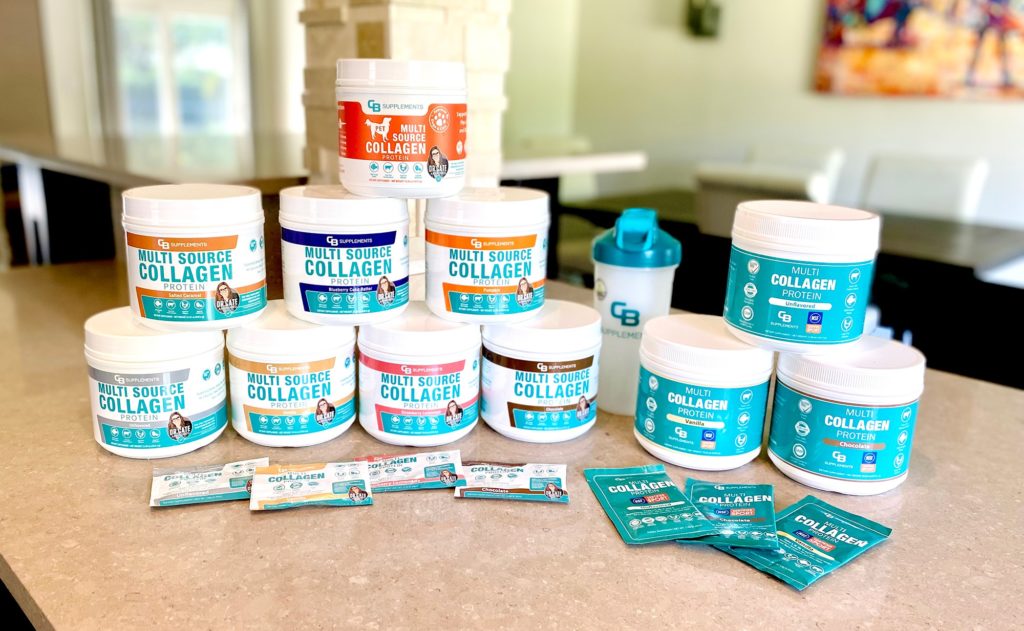 If striving for the recommended dose of collagen daily (we recommend 1 scoop of powder per 50 pounds), then you'll want to choose a collagen brand that gives you options with their products.
Having an unflavored collagen supplement should be a staple to that brand's product line, but also they should give you options with flavored (without sacrificing quality ingredients) which sets you up for success with the recommended servings. If you can get a variety of collagen products from the same brand, it makes your life a lot easier (and probably saves you money in the long-run).
Of course, there's more ways to take collagen than just powders. The best way to take collagen depends a lot on personal preference (e.g. pills, drinks, bars, gummies, etc.). Though, collagen powder and pills are the most popular.
Flavored Collagen Tip: Stay away from artificial flavors, sugar-free sweeteners, and strange ingredients that look very unfamiliar (and sometimes can't pronounce). Flavors can be delicious, but don't sacrifice your health for them.
Also, choosing a collagen supplement that offers collagen in individual single serve packs is a nice pro for when you're on the go, at the gym, or traveling.
5. Customer Service
I don't care what you're selling, customer service better be in the range of "really good" to "great!" Today, it's an expectation when shopping online. A brand selling a collagen supplement is no different.
Be sure the collagen supplement offers the following:
Generous return policy. No questions asked return policy, money-back guarantee.
Lots of Reviews. That don't look fake, fabricated — ensure most of them are "verified" purchasers. See all our reviews here.
Free Shipping
They actually respond to their comments/questions in their chat, website, social media, etc.
They have a WHY behind being in business. Our founder, Charlie, has an incredible Collagen Testimonial that was the fuel to starting CB Supplements.
The "X" factor. For example, you'll get a hand-written note with every CB Supplements order thanking you — seriously)
The Bottom Line
A collagen supplement that can do all 5 of these things I listed above, really well, is deserving of "best" in my book.
Do I think CB Supplements nails all of these things? Absolutely. Do I think other collagen supplements do as well? Coming from someone that has bought a lot of collagen from various brands, there are few.
Most collagen supplements are not MULTI (multi sourced) and nearly all do not have third-party certification — maybe the most important aspect to all this. As far as the other components (price, selection, customer service), you'll just have to evaluate those and determine for yourself.
With that said, I hope you've found this resource both informational and void of overwhelming bias. Good luck researching, finding, purchasing, and consuming the best collagen supplement in 2022.
Collagen Cheers!