Our chocolate multi collagen protein powder sacrifices nothing, and our customer service is everything.
Our premium grade Chocolate Multi Collagen Protein Powder is both incredibly delicious and amazing for your body. Made from the best collagen ingredients (just like our unflavored multi collagen powder), Natural Flavors, Cocoa (processed from Alkali), and Stevia.
If you want to keep it simple, throw a scoop into a blender bottle with just water, shake, and enjoy. If you're a chocolate fan in general and want to experiment, we'd recommend mixing with milk (hello healthy chocolate milk!), greek plain yogurt, coffee, smoothies, and much more!
Our chocolate flavor is a fantastic option to add to your multi collagen lineup, helping keep your collagen intake both fun and tasty.
Add a scoop to your green smoothie!
Health Benefits of Multi Collagen Protein Powder
Want to look & feel better? Seeking faster recovery? Needing to improve your diet?
SEEN ON
FOX 35 Good Day Orlando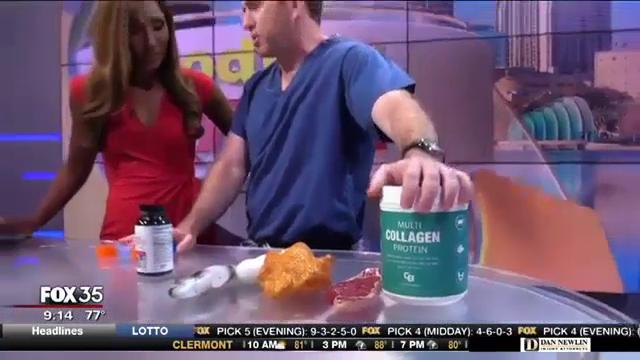 Free of Artificial Sweeteners
Manufactured in GMP Facility
Manufactured in United States
Our ingredients rock, but so does our customer service!
MORE THAN JUST
Beef or Chicken
CB Supplements multi-collagen contains collagen from 4 animal sources:
cows (grass-fed, pasture raised)
chickens (cage free)
fish (wild caught fish)
eggs (egg shell membrane)
Most collagen products are from one source (either chicken or beef) and only deliver 2 or 3 types of collagen at most.
There's debate around how many collagen types actually exist. Some say 16, others say 28, maybe there's 183?
Regardless of how many types are out there, collagen is awesome, important, and we need it. The key here is to understand that most collagen products contain only 3 types: I, II, & III.
CB Supplements multi-collagen contains 5 types of collagen: I, II, III, V, & X.
Ensuring your collagen has 5 types of collagen enables you to feel the full benefits of collagen with every scoop!
COLLAGEN 101
28 Types of Collagen?
CUSTOMER LOVE
Chocolate Multi Collagen Protein Powder Reviews
We love the collagen. Since using this my knees have felt much better
Yay for better feeling knees! Collagen to the rescue, woo-hoo! Thanks for sharing Janelle and thrilled you're loving our chocolate multi collagen.
CB Collagen is awesome
At least 50 of my friends are using it. Helps bones, tissue, and skin.
That's a lot of friends and we love every single one for using our multi collagen! :) Thanks for the review Chas.
Great service, great product
Order was fulfilled and delivered promptly. Product tastes great and plan to order again soon.
Thanks Dan for the kind review! We agree, the chocolate multi collagen is DELICIOUS. :) Thanks for trusting us with your collagen purchase.
Awesome product!
The chocolate taste great and I'm taking it every day!
Awesome, Patrick! We personally love taking the multi collagen chocolate in whole milk. Throw it in a bottle shaker and boom, healthiest chocolate milk known to man. :) We're sure you've found creative ways as well to take it daily. Thank you for the review!
Multi Collagen Protein Powder - Chocolate
This protein powder is great! I put some in my decaf coffee in the evening and the chocolate flavor helps curb my craving to have a "sweet treat" to accompany it. I'm definitely a fan and would recommend others try it.
What a great way to use our chocolate multi collagen, Carol! You're right, having at night with some coffee (or hot chocolate like many of our team members at CB Supp enjoy) is a fantastic way to curb that sweet treat craving. Well done! Thank you for the review.
Chocolatey good!
I have tried so many collagen powders and I am usually disappointed but the CB chocolate was great. It had a nice chocolate flavor without being too sweet and it dissolved well….no clumps!
Pamela -- great news! So happy you love the chocolate multi collagen powder. Thank you for the kind words in this review.
So far, so good.
The product tastes great, blends easily, and I haven't had any digestive issues. I've only been using it a week, so too soon to tell as far as results. But I'm very optimistic based on what friends that have been using it routinely have told me.
Appreciate the review on our chocolate multi collagen, Andrew! We think you'll continue to love it. :)
Ordered multi collagen protein. Chocolate. Very satisfied with the taste and the way it mixes in with my shakes. Five stars across the board.
We love five stars across the board. :) Thanks for the review Ashby, we appreciate you trying our chocolate multi collagen and happy to be a part of your shakes!
Chocolate, Oh My!
I was unsure at first but OH MY the chocolate is delicious. I tasted the powder before mixing and I could have eaten it by the spoonful. I talked myself down and mixed it with hot water, almond milk and a dash of cayenne pepper. It's delightful. 
YOU are delightful Andrea! ;) Your drink description has our mouth watering -- I think it's time we make one of those ourselves, mmmmm. Thank you for the kind words on our chocolate multi collagen -- we appreciate your business so much!
Great Taste
As a chocolate lover, I purchased the chocolate flavored collagen and was pleasantly surprised by the taste. Everyday since I received it, I've been putting a scoop in my morning/evening tea and in Greek yogurt. I absolutely love the flavor and I'm happy to say it dissolves easily (I can't stand lumps) so that's definitely a plus. Although I haven't been using this product long (16 days to be exact) I'm happy to say I haven't experienced any digestive upset at all and I have noticed my hair has grown out a little more. I look forward to experiencing more positive results and will follow up with an update after I order and complete my second container.
P.S. I appreciate the fast delivery as well.
Doris! Wow! Thank you for such a detailed review of our new chocolate multi collagen protein powder. We're absolutely thrilled to hear you're in love with it. Using it in yogurt is a great choice, we've seen a lot of customers using it that way too. Delicious! Collagen cheers to you.